Camp SCOTUS: Georgetown Law Students Pull All-Nighters Outside the Supreme Court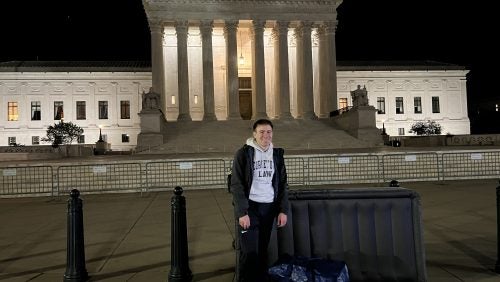 Most law students pay attention to what's happening at the Supreme Court. But only a few go so far as to sleep out on the streets of Washington, D.C. for a chance to see oral arguments in person.
Jane Sul (L'25) and Ryan Lee (L'25) have Professor Irv Gornstein for Constitutional Law this semester. Naturally, as the Executive Director of the Georgetown Law Supreme Court Institute, Gornstein assigned his students to sit in on one of the institute's moot court arguments, where lawyers for one side in an upcoming case, National Pork Producers Council v. Ross, were practicing their arguments.
Sul started thinking it would be interesting to see the actual argument at the Supreme Court – then overheard her classmate Lee saying the same. So on October 10, the eve of the argument, Lee and Sul dragged a couple of air mattresses to the sidewalk outside the Court. It was 11:30 p.m. and there were already 19 people in line.
Meanwhile, Anne Mummery (L'24) and her boyfriend, a law student at George Washington University, were also thinking it might be worthwhile to try to get Supreme Court passes. They picked one of the hottest cases on the docket, the affirmative action cases Students for Fair Admissions Inc. v. President & Fellows of Harvard College and Students for Fair Admissions, Inc. v. University of North Carolina, scheduled for argument on October 31. The evening before, they walked by the Court to scope it out and were amazed to see people already lining up. A few hours later they returned with blankets, snacks and a pool float and snagged the 50th and 51st spots in line.
How did spending the entire night in front of the Supreme Court go?
It's not so bad. Said Sul, "It was actually quite nice. We were facing the Capitol directly and it was just so beautiful. There were stars in the sky." "The Supreme Court and the Capitol were all lit up. It's gorgeous," said Mummery.
How many tickets do they give out?
50 – which meant Mummery and her boyfriend couldn't both go in. He kindly let her have the ticket. But don't feel too bad for him. He was able to enter for the second argument of the day, after another observer left.
What is it like to walk into the chamber?
"It was so grand – and surreal," said Lee. "Oh my gosh, I'm actually here," Mummery said she thought to herself. "It was cool to see [the justices'] body language and reactions," she added.
What does an experience like this mean to a future lawyer?
"It was amazing to notice how closely some of the Justices' questions resembled those asked during the moot argument and even those raised by students during class," said Lee. "The experience made the Court's proceedings and the work of the advocates appear a lot more accessible. I cannot imagine there's another law school that gives students as much exposure to the Court and its work."
"It really demystified everything surrounding the Supreme Court," said Sul. "A lot of people told me that being a 1L is hard because you're removed from the law that you actually want to study. But events like this invigorate me . It doesn't feel so removed from what I actually want to do."
"I think all our law students should try to go and see an argument while they're here in D.C.," said Mummery. "We are so lucky."