Commencement 2023: Georgetown Law Graduates Urged to Take Risks, Make Change – and Celebrate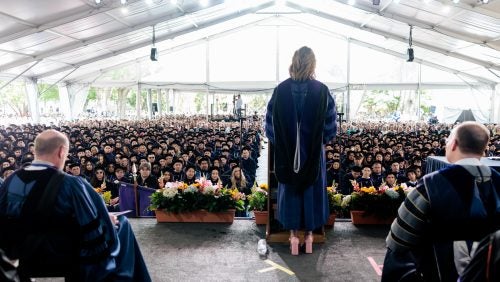 On Sunday, May 21, under a sunny sky, the Georgetown Law Class of 2023, made up of more than 1200 regalia-clad J.D.s and LL.M.s, plus a handful of S.J.D.s, M.L.T.s and M.S.L.s, gathered on Georgetown University's historic Hilltop campus to celebrate their commencement.
The day's speaker and honorary doctorate recipient, journalist Savannah Guthrie, L'02, H'23, exhorted the graduates to push beyond their comfort zones as they launch their new careers.
"Don't play it safe… Comfortable is not where the action is. Comfortable is not where you're going to find out who you really are," advised Guthrie, co-anchor of NBC News' TODAY and NBC News chief legal correspondent.
As Guthrie explained, she'd taken a big risk to come to Georgetown Law more than 20 years ago. She already had a great job in local news, but gave it up to start over as a law student. "It was deeply intimidating. I was pretty sure I had made a massive mistake," she recalled. "I had no safety net. There was no fallback."
Guthrie's big risk, followed by a few more, ultimately paid off.
"It's good to have a plan, but it's also good to take it, rip it up and do something wild and daring – even if it feels like you're taking everything you've worked so hard for and lighting it on fire," she said. "You're going to get where you're meant to go one way or the other. You can't write yourself out of your own destiny."
The morning after Commencement, TODAY shared a behind-the-scenes segment on Guthrie's return to Georgetown – click here to watch.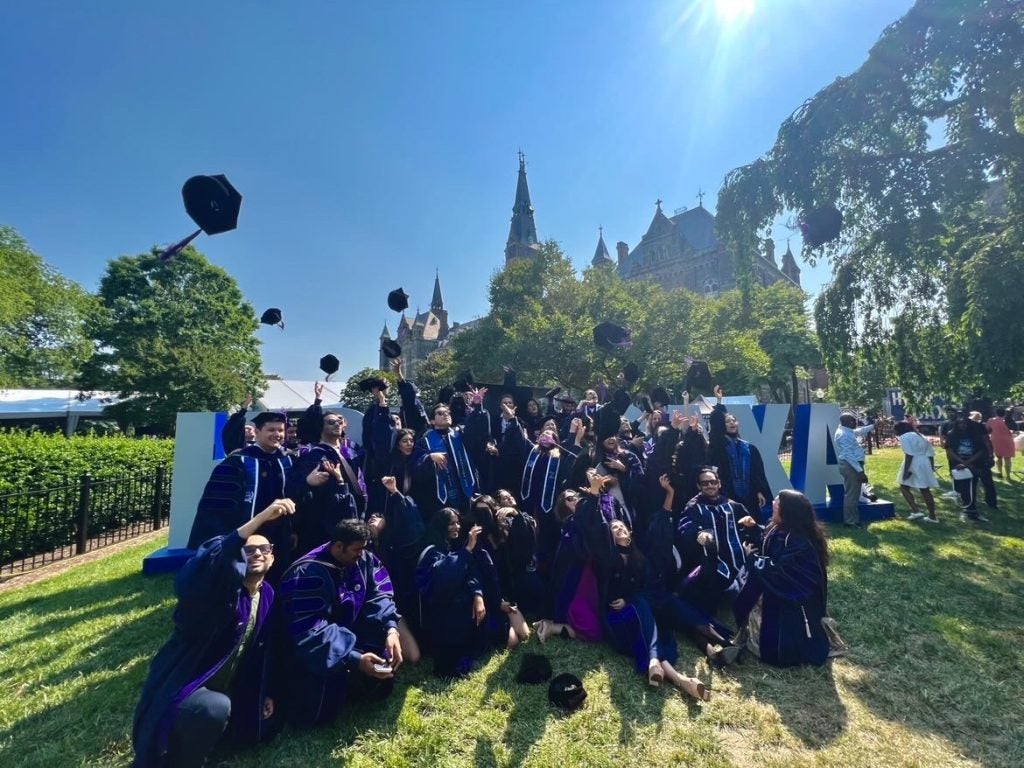 Watch the full Georgetown Law commencement ceremony here. 
Guthrie's message resonated with the graduating class, their professors, and the parents, partners and loved ones supporting them in the audience.
Many graduates had their own children in attendance. One of them, Noah Widmann, L'23, became a father at age 18 and worked in fast food and as an EMT to pay for community college. Eventually, he earned a B.A. from Columbia University, then enrolled at Georgetown Law as an Opportunity Scholar. His now-eight-year-old daughter, Elizabeth, was there to see him graduate.
"This has been the culmination of eight years of very hard work. Georgetown Law prepared me better than any school could have, and I'm incredibly grateful," said Widmann, who plans to stay in D.C. and work for the firm Fried Frank. "Now I can finally know my daughter will have the life she deserves, because of the opportunities I've had and the work I've done."
Eight graduating students shared reflections on their time at the Law Center and their plans for the future – click here to read and watch.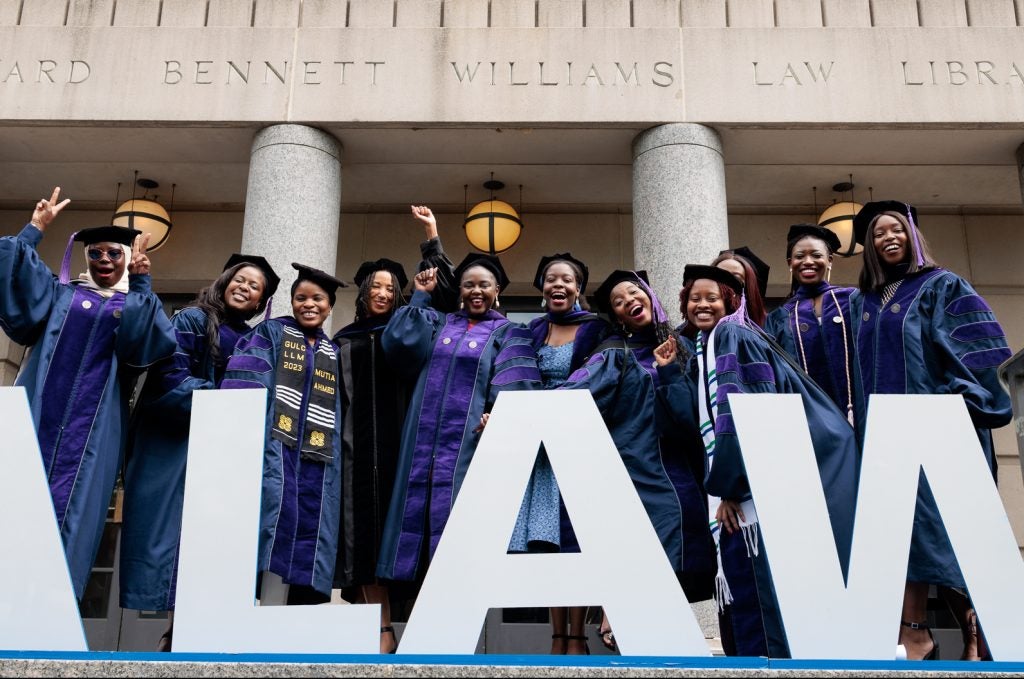 CELEBRATION DAYS
Commencement weekend began with "Celebration Days" – ten successive section-based ceremonies held Friday and Saturday on the Georgetown Law campus. Surrounded by fellow LL.M.s, or for the J.D.s, the section-mates with whom they'd weathered the 1L staples of Contracts, Civ Pro and Torts, each member of the class enjoyed the traditional ritual of being called up by name and crossing the stage to shake hands with Dean William M. Treanor and collect a diploma.
Most of the graduating J.D. students had been forced by the COVID-19 pandemic to complete their entire 1L year over Zoom. Several student speakers reminisced about how they'd managed to use apps and online chats to form study groups, attend professors' office hours and make meaningful friendships.
"We went through one of the hardest years of our lives together, but apart," said Ishaan Thakran, L'23, adding that once he got to campus at last, his concerns about having missed out on so much quickly melted away. "I have found my people," he remembered thinking after meeting his classmates in person.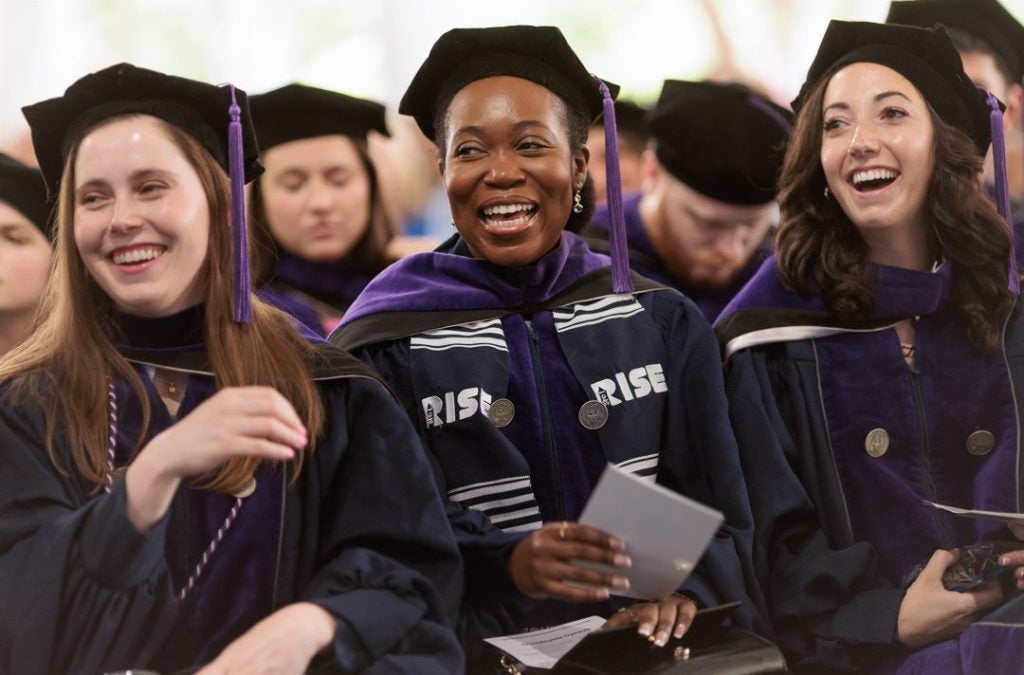 Other students spoke of how Georgetown's public service ethos had influenced their own career ambitions. In his remarks, Jaime Pazmino, L'23, an Ecuadorian lawyer who earned an LL.M. in Taxation as a Fulbright Scholar, said that while tax law may not be the most glamorous practice area, tax attorneys definitely have the ability to make a difference.
"Through taxation we can keep fighting for social change, reduce gender inequality and eliminate racial bias in tax laws. We need to use tax laws and policy to change how, in many of our countries, tax laws treat women, LGBTQ+ people and different forms of families. We can use taxation to fight climate change," said Pazmino.
Nia Sims, L'23, who'd taken Georgetown Law's alternative "Section 3/Curriculum B" 1L curriculum, perhaps unsurprisingly presented her address in a nontraditional way: by singing it. She shared a solo she'd performed with the Law Center's LawCappella singing group, "I'm Here" from the musical The Color Purple, bringing tears to the audience's eyes with lyrics like:
"I believe I have inside of me
Everything that I need to live a bountiful life.
With all the love alive in me
I'll stand as tall as the tallest tree.
And I'm thankful for every day that I'm given."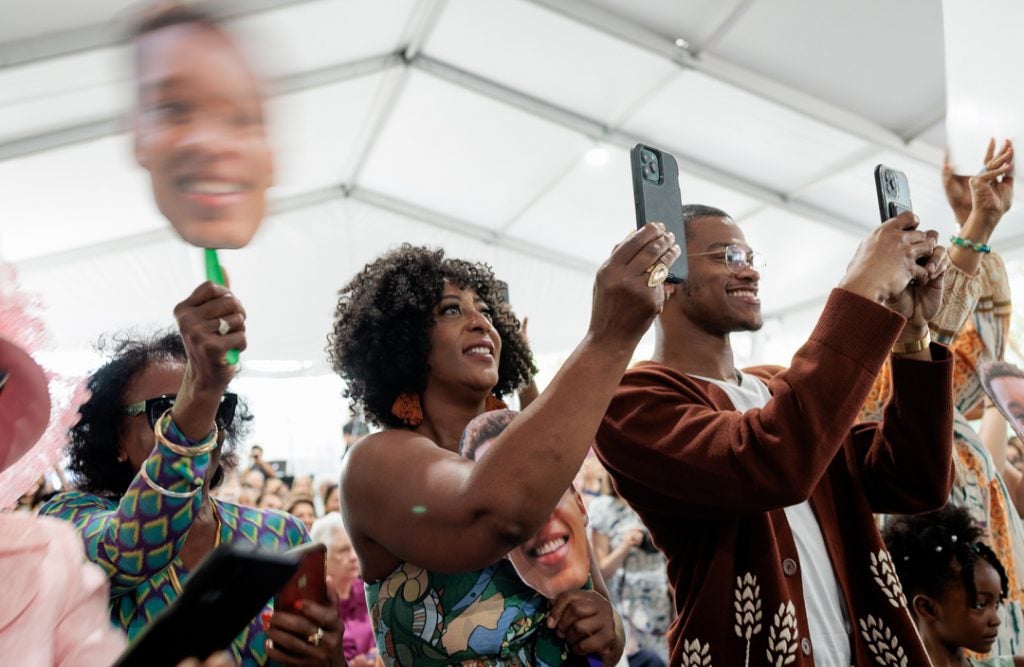 LIVE FOR TODAY
Amid all the pomp, circumstance and sage advice, Commencement 2023 was also full of lighthearted moments. Treanor concluded each Celebration Days ceremony by pausing for a selfie from the stage with the audience behind him, then cheering the graduates off to the rousing notes of the Rocky III anthem, Survivor's "Eye of the Tiger."
In her Commencement Day speech, outgoing Student Bar Association president Mariaeugenia Gurdian, L'23, after reminding her classmates of the importance of remembering the past and planning for the future, urged them to take time to enjoy the moment they were in as well.
"Live for today. So much of law school consisted of planning ahead. Applying to jobs and clerkships years in advance. Always worrying about what's next," said Gurdian. "Don't get lost in the future – live in the now.
"Right now, we have so much to celebrate."