Celebrating the Georgetown Law Class of 2023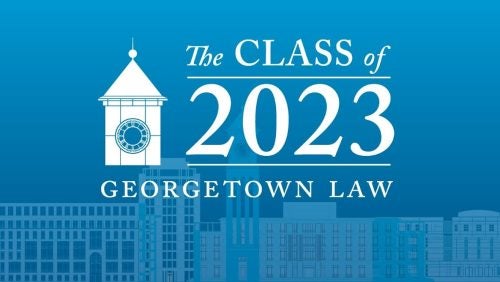 On Sunday, May 21, some 1,200 individuals become Georgetown Law alumni. They'll join a community of 50,000 Hoya Lawyas throughout the world. A few J.D. and LL.M. graduates took a moment to look back on their time at the Law Center and share their plans for the future.

Maya Gandhi, SFS'19, L'23
As a Georgetown undergraduate, Maya Gandhi was editor-in-chief of the student newspaper, The Hoya. At Georgetown Law she held the same title at the Georgetown Law Journal. As graduation approached, she reflected on how Georgetown's Jesuit heritage has shaped her educational experiences.
Santiago Gutierrez, L'23
Santiago Gutierrez didn't come to law school planning to join the U.S. Navy Judge Advocate General's (JAG) Corps, but as he explains, the variety of experiences and opportunities he had at Georgetown opened his eyes to that possibility.
Keniece Gray, L'23
Keniece Gray blazed new trails as the first Black woman to graduate from Georgetown Law's Business Law Scholars program, which prepares students for career success through special mentorship and networking opportunities and courses exclusively available to this cohort.
Caleb Orr, L'23
Caleb Orr juggled his Capitol Hill job with his coursework in Georgetown Law's evening program. Sometimes, he found himself discussing the same legislation he had been working on in his day job in his law classes at night.
Mariaeugenia Gurdian, L'23
Mariaeugenia Gurdian, the outgoing president of Georgetown's Student Bar Association, is looking forward to a clerkship with fellow Georgetown Law alumna Judge Virginia M. Hernandez Covington, L'80, who serves on the United States District Court for the Middle District of Florida.
Torrell Mills, L'23
Torrell Mills is grateful for the professors he studied with and the experiential learning opportunities he had at Georgetown Law, all of which left him feeling prepared to embark on his own legal career.
Zamira Hussaini, L'23
Having earned an LL.M. at Georgetown Law, Zamira Hussaini hopes to be able to make an impact on the world, especially on behalf of women and girls in her home country, Afghanistan.
Chung-Sheng Chao (Jasper), L'23
Jasper Chao is proud of having pushed beyond his comfort zone to come to the United States and study for an LL.M. in Taxation at Georgetown Law – just as Sen. Mazie Hirono, L'78, advised the graduating class to do at a recent campus event.
Congratulations to the Georgetown Law Class of 2023!
For information on the 2023 Georgetown Law commencement celebrations, click here.