The Student Bar Association ("SBA") is composed of a House of Delegates and Executive Board. The SBA works through a variety of internal and external committees to make positive changes to campus policy, engage with members of the faculty and administration, and host events for the Georgetown Law community. The SBA meets bi-monthly during the academic year, and meetings are open to all students to share suggestions or concerns.
If you are hoping to join a meeting or have any questions or concerns about campus life, please reach out by emailing the SBA President. If you would like to submit an outline or syllabus to the SBA Outline Bank, please upload your document to the SBA Outline Bank. We look forward to hearing from you!
– Georgetown Law Student Bar Association, 2022-2023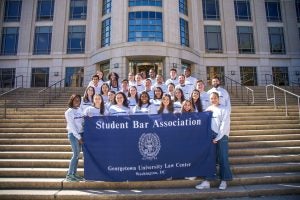 SBA OUTLINE and SYLLABUS BANK
SBA recently did a major update to the Outline Bank. This included adding a separate Syllabus Bank. (View the Outline Bank) If you are having trouble accessing the Outline Bank, please remember to log in with your NetID@law.georgetown.edu. If you still have trouble, please email the technology help desk or go to IST located in McD 152 next to Hart Auditorium to fix any issues.
FUNDING GUIDELINES
To see the newly published Appropriations Committee guidelines please read the SBA Appropriations Committee Funding Guidelines.