Georgetown Law Welcomes Seven New Professors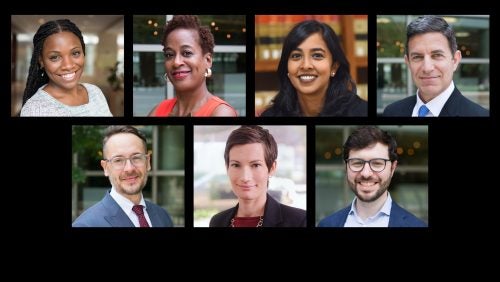 Seven scholars joined the Georgetown Law faculty over the summer: five whose work will center around classroom teaching as well as their own research projects, and two who are leading clinics — including the latest addition to the Law Center's clinical program, the Racial Equity in Education Law and Policy Clinic, which launches in the spring semester.
These professors' arrival comes just as Georgetown Law is preparing to resume in-person operations, which have happened on a limited basis since the COVID-19 pandemic began in the United States in early 2020.
"During the past year and a half, I have been more impressed than ever before by the dedication and resilience of the Georgetown Law faculty," said Dean William M. Treanor. "I am so pleased to welcome these outstanding teachers and scholars to our community, and am very much looking forward to seeing them, along with the rest of our students, faculty and staff on campus this semester."
Associate Professor Nakita Cuttino: Understanding Economic Opportunity in Theory and Practice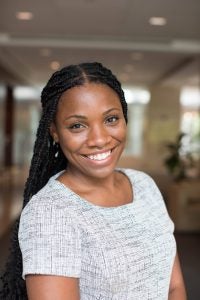 After graduating from Howard University and Duke Law, Nakita Cuttino had a clerkship with Judge Eric L. Clay of the U.S. Court of Appeals for the Sixth Circuit, who is based in Detroit. She was fascinated by the once-vibrant city and wanted to understand how its majority-Black population could build a better future.
"For me, it was the economics of it all. I wanted to figure out how to create self-sustaining minority neighborhoods," she says.
As an associate at Simpson Thacher & Bartlett LLP, she requested to work on corporate transactions, so she could learn the financial system from the inside. A couple of years later, she was accepted into a fellowship program at Duke, and returned to begin her academic trajectory.
In her scholarship, Cuttino has deepened and broadened her ideas about the tools that can boost economic opportunity in disadvantaged communities, from policy to fintech.
She feels Georgetown Law, with its numerous professors studying finance, fintech and economic opportunity, and Washington, D.C., home to most of the lawmakers, regulatory agencies, interest groups and think tanks driving both innovation and policy in the financial sector, offer the perfect environment to continue to explore these ideas.
"I want my research and my work to have a real world impact and connect to my purpose, which is creating communities that are healthy and financially secure. I don't want my scholarship to be so 'ivory tower' that I lose sight of the real people," she says. "I think being in D.C. and at Georgetown will allow me to stay grounded with my work."
Associate Professor Janel George: Teaching the Skills of Advocacy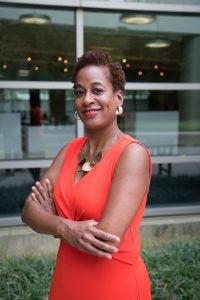 Janel George has joined Georgetown Law as founding director of the school's newest clinic, the Racial Equity in Education Law and Policy (REELP) Clinic. George brings with her a wealth of experience in legislative law and policy advocacy.
The clinic will partner with selected clients whose work involves advancing racial equity in education, which could include nationally focused organizations, smaller local groups or even student-led organizations.
After graduating from Spelman College, George worked with domestic violence survivors, a role in which she often interacted with lawyers and saw the kind of advocacy that was possible with a law degree. While earning her J.D. at the University of Wisconsin Madison, she continued exploring a career in advocacy with an internship at the Children's Defense Fund, then came to Georgetown Law as a Women's Law and Public Policy Fellow.
George says the range of work the clinic students will do is similar to the kind of projects she took on during her years as a senior counsel at the NAACP Legal Defense and Educational Fund, Inc.
"I testified before school board hearings, I wrote letters in response to public comments or requests for information, I met with congressional staff members, I learned the art of coalition building and collaborating — and then of course the research and writing," she says, listing just a few of the skills she developed along the way.
Other career highlights for George include legislative counsel positions on Capitol Hill, adjunct teaching at both Georgetown Law and the McCourt School of Public Policy and most recently, working on issues of educational equity as a senior policy advisor with the Learning Policy Institute.
George is eager to equip students to start using what they've learned in the classroom to make the education system in our country more equitable.
"Even if students choose not to work in the policy arena, if they go a different route, understanding how policy develops will be invaluable to the work that they do," she says.
Professor Anita Krishnakumar: Engaging Students in the Process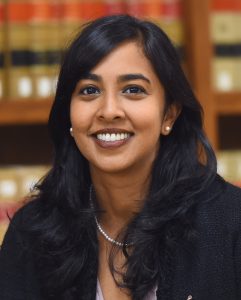 Georgetown Law's proximity to both the U.S. Capitol and the Supreme Court was a big part of the reason why Anita Krishnakumar, a scholar of statutory interpretation and the legislative process, chose to join the faculty here. She's looking forward to opportunities like bringing students to hear arguments at the Court, or having lawmakers come to speak to a class.
She had considered law and academia since childhood, thanks to her judge grandfather and professor father, but as an undergraduate at Stanford and law student at Yale, it took her some time to decide what to specialize in.
After clerking for the Hon. José A. Cabranes on the United States Court of Appeals for the Second Circuit and working as an associate at Mayer, Brown, Rowe & Maw and at Cleary, Gottlieb, Steen & Hamilton, Krishnakumar entered the academic market. She was drawn back to her roots as a political science major in college, and to a law school paper she'd written about the congressional budget reconciliation process — something often in the news lately, but not as closely studied then.
In 2006, she began her first full-time teaching job at St. John's University School of Law. A combination of factors in her first years there gave her the idea to start tracking the recently constituted Roberts Court's statutory interpretation methodology. She initially intended to write just one or two papers, but she was learning so much that she has continued the coding project ever since, finding it interesting to follow doctrinal trends as they emerge.
At Georgetown, she's planning to teach a legislation colloquium that will bring scholars in to discuss their papers with students — one of her favorite things to do.
"Law students are so enthusiastic about everything they're learning, and they appreciate being able to engage scholars as if they're peers," she says. "And having students who are really interested in public law is awesome."
Associate Professor Dave Rapallo (LL.M.'97, LL.M.'99): Returning to Georgetown Law from Capitol Hill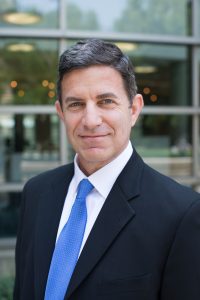 Dave Rapallo (LL.M.'97, LL.M.'99) has returned to Georgetown Law after more than two decades as a lawyer on Capitol Hill and in the White House, to lead the Law Center's Federal Legislation Clinic — where he was himself a fellow in the 1990s.
A California native, Rapallo discovered an affinity for legislative law after completing his undergraduate work at the University of California, Los Angeles and his law degree at The University of California, Hastings College of the Law. He had always imagined himself as a trial lawyer, but when he took a fellowship with the California governor's office, "it just clicked," he says.
The place to go to develop skills in legislative lawyering was (and still is) Georgetown Law. Rapallo came East to work at the clinic and earn two LL.M.s, in advocacy and international law.
Next, he joined the staff of the House Committee on Oversight and Government Reform under then-chairman Rep. Henry Waxman. Then, after President Barack Obama's election, Rapallo took the opportunity to join the new administration as senior director and counsel for legislative oversight at the National Security Council.
He hadn't envisioned returning to Congress, but when Rep. Elijah Cummings invited Rapallo to be his chief of staff on the House Committee on Oversight and Reform, he couldn't turn down the chance to work with the well-respected civil rights advocate and politician.
When Cummings died in 2019, Rapallo started to think about his next chapter. Inspired by the way the congressman was so generous with his time, he thought he'd like to work where he could have a positive impact on young people. And then he heard that the Georgetown Law Federal Legislation Clinic was seeking a new director. The match was made.
"It's such an honor to be back at Georgetown," Rapallo says of his new role here. "I feel incredibly fortunate in the experience I got on the Hill — not one, but two impeachments, and legislation on a huge variety of issues, from paid family and medical leave, to immigration, to moving ahead with making D.C. the 51st state, as well as a host of other topics. Now, I'm really looking forward to helping Georgetown students become excellent legislative lawyers."
Associate Professor Brishen Rogers: Labor and Law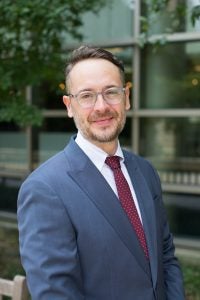 Brishen Rogers' first experiences with labor organizing took place while he was an undergraduate at the University of Virginia, when students got involved in a living wage effort on behalf of campus workers. He then went on to work as a labor and community organizer for several years. Eventually, though, he decided he wanted to interact with the labor movement as a lawyer.
"My big takeaway was that the law just did very, very little to protect workers' rights to organize, and that's something I wanted to understand better," he says.
After attending Harvard Law School and again working for a labor union, Rogers decided the best path for him was into academia. He landed at Temple University's Beasley School of Law, where he taught torts and labor, and dove deeper into investigating the changing relationship between workers and the economy.
His first book, "Data and Democracy at Work," will be published next year by MIT University Press.
"It's about how companies are using new data-driven technologies to transform work, how that process has been shaped by the law and in turn has shaped the development of the law," he explains.
From what he has seen so far of his new colleagues and the students at Georgetown Law, he expects that this will be a great place in which to continue all these explorations.
"The student body is remarkable — very smart, very grounded, very dedicated," he says, adding, "The idea of building a more just and equitable economy is essential not just to labor studies, but also to Catholic social thought. It feels like Georgetown is a place that takes those questions quite seriously."
Professor Emily Satterthwaite: Tax and the Real World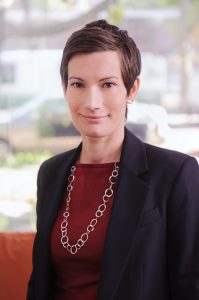 Emily Satterthwaite has just returned Stateside after more than a decade at the University of Toronto Faculty of Law. Focusing on her specialty of tax law while in Canada offered interesting new dimensions and insights to her scholarship. "Just seeing how two similar societies could do things so differently has been formative in my research," she says.
Satterthwaite, who holds a B.A. from Yale, a J.D. from Stanford and an LL.M. and M.A. from the University of Toronto, has always enjoyed exploring complex systems. "I have a deep curiosity about how the world works. It's what drew me to law in general and studying tax in particular, which can be formidably complex," she says.
After an associateship at Skadden, Arps, Slate, Meagher & Flom LLP, she became the assistant director of the Institute for Justice Clinic on Entrepreneurship at the University of Chicago Law School, a role in which she saw how tax laws affect the real lives of low-income entrepreneurs. She continued studying how entrepreneurs and the self-employed interact with the tax system after moving to Toronto, with the added angle of the Canadian value-added tax.
Now, at Georgetown Law, she hopes to show her students how unexpectedly relevant tax law can be to so many aspects of the world.
"Tax can be and is accessible to everyone," she says. "Even though it might seem like it's for finance types or people who like math, actually it intersects with almost every area of our legal infrastructure. It is at the center of conversations about social justice, fairness and a shared commitment to one's community."
Satterthwaite is also looking forward to being part of the Law Center's diverse and experienced tax law faculty. "It's a great honor to join this world-renowned program," she says. "There isn't a more meaningful place to have these conversations than at Georgetown Law."
Associate Professor David Wishnick: Exploring the Questions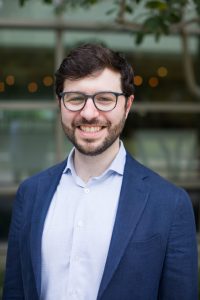 As an urban studies major at Brown University, David Wishnick was curious about the laws and regulations behind the real estate boom going on at the time. Then, a few years later, he was working in affordable housing when the market went bust, and again had many questions about why.
"In part, I went to law school to figure it out — and maybe help prevent it from happening again," he says.
Following his graduation from Yale Law School, he completed two clerkships, on the D.C. Circuit with Judge Thomas Griffith and on the Second Circuit with Judge Guido Calabresi. He then became an associate at Jenner & Block in Washington, D.C., where his work centered around financial institution monitoring and regulated industries.
While the firm experience was exciting, he found he missed the kind of exchanges he had in law school. A fellowship at the University of Pennsylvania Law School's Center for Technology, Innovation, and Competition provided his on-ramp to teaching and scholarship.
Wishnick has found that he delights in introducing students to the kinds of questions he's wrestled with his whole life. "I love teaching! There's so much to discover and understand, and to be on that journey with students is a joy," he says.
At Georgetown Law, he'll be teaching Contracts and a seminar in Corporate Governance, Risk Management and Compliance. These can be tricky subjects to engage students in, but he's enjoying the challenge.
"I like attempting to simplify seemingly complex and arcane topics and to reveal their importance in ways that motivate even skeptical students," he says.
In many areas, such as the potential role of data in regulation, Wishnick expects to learn just as much from his students as they do from him.
"Students are so knowledgeable about what's changing in the world of technology," he says. "I look forward to exploring a range of questions with them. I think it's going to be a very active intersection for practitioners, scholars and lawmakers over the next couple of decades."