Jeanie Namugga (LL.M.'18): Improving Uganda from an Environmental Perspective
With the discovery of commercially viable amounts of oil in Uganda in 2006, protecting the environment has become an especially hot topic.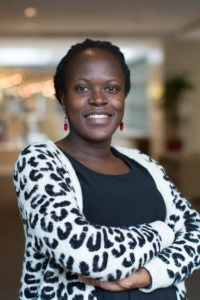 So Jeanie Namugga (LL.M.'18), a judicial clerk/legal research officer in the land and environmental division of Uganda's high court, applied for a fellowship with Georgetown Law's Environmental and Energy Law LL.M. program after learning about it through Greenwatch Uganda.
"Our country is going to establish a [new] environmental court, and definitely the Georgetown Law program will be of great benefit to me when I go back home," Namugga says. "I am hoping to be one of the pioneers in the court, giving insights on environmental and energy matters. What I've studied will be very helpful to the courts and to Uganda. That's one of the reasons why I'm here."
Namugga, a graduate of Makerere University, has wanted to represent the rights of the poor and vulnerable, especially women, ever since she was a child. And questions of land and the environment were inextricably intertwined. Her late father, a member of Uganda's Parliament, represented an area consisting of vast wetlands, which people sought to exploit for commercial use.
"I said, how can you encroach on a wetland?" Namugga recalls. "How are you going to construct in a wetland? Those were questions that were not answered. So it pushed me to undertake an undergraduate degree in law, not only to advocate for the rights of women and the vulnerable, but to also protect and conserve the environment. "
She also joined FIDA-Uganda, an organization fighting for the rights of women with respect to land.
"Our constitution provides that everyone has a right to own property (land)," she says. "However, because of the cultural diversity and a belief in patriarchal rights and heritage, when a husband dies, the husband's family wants to take everything, and leave the wife with nothing. So the orphans and widows end up suffering." In some communities, she notes, women are often regarded as property, and not allowed to own property.
As an environmental and energy law LL.M. fellow at Georgetown, Namugga spent the year examining the enforcement of U.S. environmental laws and policies, in order to transfer the knowledge to her home country. When she goes home, she hopes to be promoted to a judicial officer in the new environmental court — first as a magistrate and then a judge.
She also returns home with a new daughter, Natalee Ruteeba. Namugga and her husband, an S.J.D. candidate at the University of Iowa, welcomed Natalee, their second child, during the fall semester — while Namugga successfully completed classes in international law (water resources), natural resources law, federal environmental litigation and environmental lawyering.