Jenadee Nanini (L'17, LL.M.'18): Lending a Voice to the Voiceless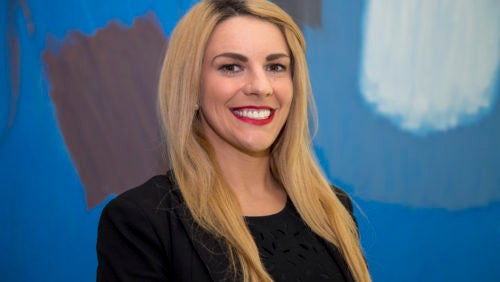 As a child in rural Montana, Jenadee Nanini (L'17, LL.M.'18) knew at an early age that her parents had hearts for those in need.
"Whether it was driving a neighbor to the doctor's office more than 100 miles away or stopping on the side of the road to tow a car, my parents modeled what it meant to take the shirt off your back for someone," said Nanini, a senior associate at the D.C. Affordable Law Firm. "They always shared their time and resources, even if they didn't have extra to share. They put their own needs last."
Nanini learned from the example. After graduating from Georgetown Law, she joined the nonprofit firm for a 15-month fellowship in August 2017 and subsequently was hired for a one-year supervisory position, mentoring and overseeing the current fellows. The mission of the low bono firm — launched in 2015 by Georgetown Law and the law firms DLA Piper and Arent Fox — is to provide legal assistance in civil matters and to serve as a model that will help solve the access to justice gap. At the firm, fellows work to earn a LL.M. from Georgetown Law in Civil Justice, which Nanini received in December.
Fixing Injustice
Nanini, a direct descendant of the Blackfeet tribe, didn't know any lawyers growing up, but she watched law-related TV shows and was drawn to the legal field. She saw law as an avenue to "give small people a big voice." Growing up in a small community next to the Blackfeet Indian Reservation (where she saw deep poverty and a "lack of fairness") taught Nanini that lending a helping hand to one person can positively impact the entire community.
After graduating with honors from Washington State University (as an undergraduate she interned for Senators Ted Kennedy and Jon Tester), Nanini taught middle and high school math for Teach for America in West Dallas, which she called one of the most amazing opportunities of her life. "I gained a deep understanding of the intersectional burdens in society that [students] faced and gained insight on ways to advocate for change in several areas," she said. "This experience, along with my background, truly prepared me for law school and to continue working towards fixing injustices in the world."
Nanini applied to Georgetown Law with a focus on public interest law, motivated by the idea of making large, systemic change. "I really wanted to do public service policy work, then I realized I thrive on human connection," she said. She served as a student attorney in the Juvenile Justice Clinic, run by Associate Dean Kristin Henning, and fell in love with litigation. "From my background, I understood that by helping one person, you're helping the system," she said.
Practical Skills
While a law student, Nanini also served as a Public Interest Law fellow (now called the Blume Public Interest Scholars Program), interned at the NAACP and the White House, co-founded the Native American Law Students Association, worked as Henning's research assistant, volunteered with Advocates for Justice in Education, published two articles, served on student panels for the Admissions team on occasion, and participated in the Iron Tech Lawyer competition. She said an Opportunity Scholarship (and loans) made her law school education possible.
Thanks to her clinic experience and work in the Access to Justice practicum, she had the skills and experience to hit the ground running immediately after graduation, working at the D.C. Affordable Law Firm.
Working with clients in family and immigration law, generally those who are just above the poverty line but can't afford their own lawyers, Nanini is getting to do things that lawyers typically don't get to do for a few years, including managing her own cases and representing clients in court.
"Going into the legal system is such a scary process for clients, and it's so meaningful to remove the burden and make them feel like someone's on their side," Nanini said. "It's wonderful to be able to walk into the court with someone who has been told they don't have value, or they are simply a victim of the system, and to be able to show them someone still respects their dignity and values their worth as an individual. It's that idea of making small voices feel big. That's very meaningful, to do it every day."