Journalists, Technologists, Scholars Discuss New Digital-Age Threats to Elections at Georgetown Law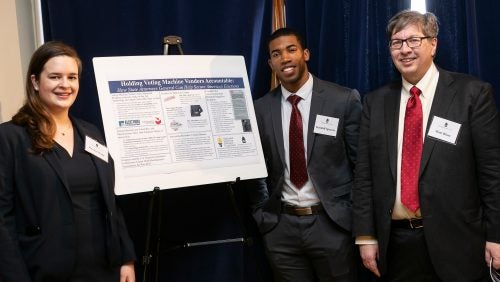 Days after a malfunctioning app wreaked chaos on the Iowa Caucus, Georgetown Law convened leading scholars, policymakers, technologists and journalists to examine the challenges technology poses to the electoral process.
The daylong, Feb. 7 symposium, Election Integrity In The Networked Information Era, highlighted Georgetown Law's deep commitment to cutting-edge tech law and covered everything from the impact of social media and misinformation campaigns on public discourse and voter turnout to the vulnerabilities of digital voting technologies and gaps in election oversight.
"We should all be alarmed and disturbed by the threats faced by our democracy," said Professor Julie Cohen, who welcomed attendees to the event hosted by the Georgetown Law Institute for Technology Law & Policy in partnership with the Georgetown Law Technology Review.
Cohen later moderated a session on voter suppression and voter turnout which considered constructive grassroots efforts to organize and count voters, but also the dangers presented by state-sponsored disinformation campaigns executed by internet trolls and undetectable online bots.
Panelist Cara Brumfield, of Georgetown Law's Center on Poverty and Inequality, said efforts to depress immigrant participation in the census are another major source of disenfranchisement to watch.
"Each of us who care about racial equity, civil rights, and protecting the integrity of our democracy should be paying very close attention as the census continues to unfold," she said.
In a panel about the influence and impact of social media on public discourse, journalist-turned-lawyer and Georgetown Law Professor Erin Carroll warned that "public trust in democratic institutions is at an all-time low."
Buzzfeed reporter Lam Thuy Vo and Mike Annany of USC's communication and journalism school were among panelists who explored whether social media companies can ever ethically and effectively fact-check content. Georgetown University Professor Leticia Bode — who studies communication, culture and technology — pointed to the sheer volume that a platform like WhatsApp would need to sift through in order to fully moderate content on the messenger.
Even if they caught 99.9% of tainted content, 510 million pieces of misinformation would still slip through the net each day, she said.
New Programs to Address New Problems
In addition to the Tech Institute and journal that sponsored the symposium, Georgetown Law tech offerings now include 70-plus courses and 19 full-time faculty teaching in the area, the Tech Law & Policy Scholars program and numerous other opportunities for students to explore the intersections of technology and law.
Several Georgetown Law students participated in the event's lunchtime poster presentations, including Lauren Renaud (L'19), the winner of the Georgetown Law Technology Review's writing competition, now in its second year. She presented her findings on deepfake journalism, showing how advances in technology have enabled the generation of fake news that is virtually indistinguishable from the mainstream media.
"Bills to criminalize the creation and distribution of deepfakes or reform and regulatory schemes could start to address the issue," she said, while adding "journalists need to prepare to recognize deepfakes in order to avoid circulating and legitimizing them."
Students Making a Mark
Across the room, Tech Law Scholar Kendall Spencer (L'20) and Rachel Wehr (L'20) presented a poster entitled "Holding Vendor Machine Voters Accountable: How State Attorneys General Can Help Secure America's Elections." They developed the poster presentation in collaboration with another conference participant, Georgetown Law Professor Matt Blaze.
Blaze, one of the nation's foremost experts on cybersecurity and elections and the first non-lawyer computer scientist teaching in a tenured position at a U.S. law school, moderated a lively panel on a wide array of digital voting technologies the nation faces as election season kicks off. (See video below.)
Last year, Blaze, Spencer, and Wehr traveled with support from Georgetown Law's Communications and Technology Law Clinic to Las Vegas, where they hosted a voting machine hackathon at DEF CON, one of the world's largest and best known hacking events. The trio co-authored the DEF CON report on voting machine vulnerability, which helped to inform Spencer and Wehr's poster presentation at the Elections Integrity symposium.
Spencer explained the work with great optimism, saying voters themselves could force manufacturers to better protect the security and legitimacy of voting.
"While election reform can be accomplished using regulatory, legal, or other approaches, demanding better security in voting machines can be accomplished by holding manufacturers accountable," he said. "As voters, we understand what's at stake. Technology can put power back in the hands of the people."
In the final panel of the day, focused on new election oversight challenges, Federal Election Commission (FEC) Commissioner Ellen Weintraub painted a bleaker picture.
The President has failed to fill three openings on the FEC, leaving it toothless and without the quorum needed to conduct any investigations, issue rules or conduct reviews of elections. Even when the Commission was fully staffed it was virtually impossible to accomplish anything, Weintraub said, because of partisanship and both parties' resistance to having their own election activities regulated.
Papers by the speakers on the event's panels will be available in the upcoming April issue of the Georgetown Law Technology Review.
Watch Professor Matt Blaze's panel below.