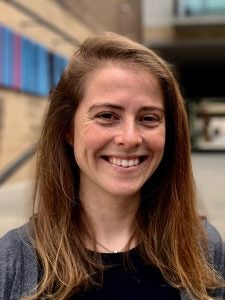 Lucía Mock Muñoz de Luna, Ph. D.,  joined the Center for Innovations in Community Safety as a Senior Program Associate in December 2022, where she supports various projects including the Police for Tomorrow Fellowship and Expanded First Responders programming.
Prior to joining the team at Georgetown, Lucía completed her Ph. D. in Cultural Studies Education at the University of North Carolina at Chapel Hill. Her research focuses on refugee education and the ways refugee communities envision and enact expansive models of learning and education beyond western frameworks of schooling. As a graduate student, Lucía taught several courses focused on social justice in education and also served as the Editor for The High School Journal, a peer-reviewed academic journal focused on critical issues in secondary education. Lucía was awarded the Chancellor's Award for Student Undergraduate Teaching in 2021 as well as the Black Alumni and Students of Education Award for Service in 2021. Prior to her graduate studies, Lucía worked as a high school counselor in Boston Public Schools, and in Beirut, Lebanon, where she also worked alongside a refugee-led community school in Burj al Barajneh refugee camp to provide educational opportunities for Syrian and Palestinian youth. As the daughter of political refugees from Franco's Spain, Lucía's work in education and organizing is dedicated to supporting community-led models of care and justice.
Lucía graduated from Wheelock College in 2009 with a major in History and a minor in Juvenile Justice and Youth Advocacy. She received her masters degree in Education as well as her Certificate of Advanced Studies in School Social Work from Harvard University in 2013.