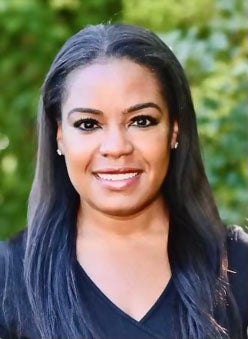 Talhia Therese Tuck is the Project Director for the Police for Tomorrow Fellowship.  She joined the Innovative Policing Program in November 2019 as its first Program Associate. Prior to holding this position, she was an Associate Director of Admissions at Georgetown University for four years, where she evaluated applications for the undergraduate schools; served as the admissions representative for multiple regions; and chaired several admissions committees. In this role, she also served on numerous educational panels and conducted outreach in the Washington, D.C. area.
Before joining the Georgetown University community, Talhia worked in the investment relations and communications field, where she served as Vice President for Communications and Investor Relations at a healthcare company. In this capacity, she was responsible for coordinating communications with shareholders, the financial community, and the media. In addition to her communications experience, Talhia also has experience working in the legal field. Following her graduation from law school, she participated in the Ropes & Gray New Alternatives Program as a Fellow at the Office of the State's Attorney for Montgomery County, Maryland. Subsequently, she worked in the Corporate Department at Ropes & Gray in Washington, DC.
Prior to attending law school, Talhia was a journalist with MSNBC, NBC News, ABC News, and the CBS affiliate, WINK-TV. She also worked as an admissions officer for Harvard College at Harvard University. Immediately after graduating from college, Talhia worked as a financial analyst at Goldman Sachs in the Investment Management Division.
Talhia received her A.B. from Harvard College, cum laude, and received her J.D. from Harvard Law School.