Innovative Policing Program
Georgetown Law's Innovative Policing Program is dedicated to identifying new approaches to long-standing questions: what role should police play in a diverse and democratic society?
How can we ensure that policing reduces insecurity and injustice in an inclusive manner, instead of reinforcing inequality? How can communities and police departments work together to address the toxic legacy of racial discrimination that continues to distort law and policy in the United States?
The Innovative Policing Program brings together many of the nation's top experts on criminal justice and policing, including several members of the Georgetown Law faculty.  The Innovative Policing Program offers the Police for Tomorrow Fellowship Program for new D.C. police officers and police department personnel; Police Academy lectures and workshops; the Active Bystandership for Law Enforcement (ABLE) Project; and a project-based practicum for Georgetown Law students. The Innovative Policing Program also carries out a variety of policing-related projects and hosts convenings on policing topics.  We encourage you to learn more about the Innovative Policing Program by exploring our website for additional information.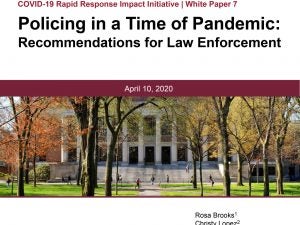 Read our latest report from Professors Rosa Brooks and Christy Lopez titled, Policing in a Time of Pandemic: Recommendations for Law Enforcement.