Georgetown Journal of Poverty Law & Policy Presents "Fulfilling Olmstead: Community Living for People with Disabilities"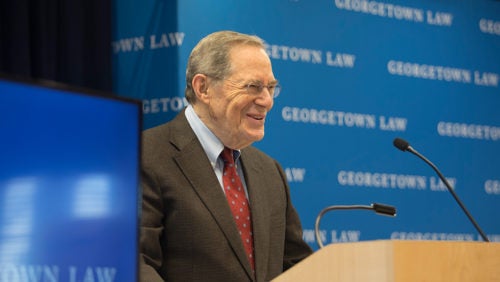 Respecting persons with disabilities, "there is still [so much] to do in so many ways," said Professor Peter Edelman, speaking at the Georgetown Journal of Poverty Law & Policy's Volume 27 Symposium on November 1: "Fulfilling Olmstead: Community Living for People with Disabilities."
Among other things, people with disabilities still have disproportionately low income, as Edelman noted. But there have also been many achievements in disability rights. And while most attendees at the symposium already knew the history of those achievements in the United States, Edelman outlined a few of the major victories, including the Rehabilitation Act of 1973 and the Americans with Disabilities Act (ADA) of 1990.
And the 1999 Supreme Court decision of Olmstead v. L.C., a groundbreaking opinion issued 20 years ago in June. The case held that the unjustified segregation of persons with disabilities constitutes discrimination in violation of Title II of the ADA. The case involved two women with disabilities who remained confined to an institution years after they were cleared to enter a community-based program.
"Olmstead is a litigation vehicle…" Edelman said. "It is so important, along with policy and advocacy pointed at federal, state and local governments [that supports, for example], competitive employment; that's the goal. Another problem…thinking about the criminalization of poverty…instead of being sent to the principal, [children with disabilities] get sent to court… It's a bigger percentage than kids of color."
Olmstead, written by Supreme Court Justice Ruth Bader Ginsburg clarified and expanded the definition of discrimination under the ADA, explained Eric Swenson (L'20), the Journal's symposium editor. Swenson introduced Edelman, the journal's faculty adviser; Sarah Hainbach (L'20) is the current editor in chief.
Internationally recognized advocate and author Judith Heumann and Brown Goldstein & Levy attorney Eve Hill started the day with a look at "Building Coalitions and the Disability Rights Movement."
"Olmstead is only effective when we are looking more broadly, systemically," Heumann said. "Hopefully [we will] broaden the discussion on these issues…Olmstead is a part of the entire [picture] that we need to be dealing with as far as inclusion, integration, social justice and equality is concerned."
Effective Advocates
Panels at the all-day event focused on Olmstead and housing (with Georgetown Law Professor Michael Diamond, who teaches an Affordable Housing Seminar in the spring); direct service providers; Olmstead and prisons; and a look at the case itself, sponsored by Georgetown Law's Supreme Court Institute (SCI). Professor Michael H. Gottesman, and Professor Irving Gornstein, executive director of SCI, spoke at the Olmstead panel, along with Jennifer Mathis (L'94) of the Bazelon Center for Mental Health Law, and University of Michigan Professor Samuel Bagenstos.
It was an all-star lineup, as Gottesman argued Olmstead before the Supreme Court in April 1999 on behalf of the the women respondents; and Gornstein, who was then serving as assistant U.S. solicitor general, did the same, as amicus curiae for the United States.
Symposium Editor Swenson, whose brother Charlie had multiple disabilities, noted that "disability issues tend to be a personal affair." He emphasizes that community integration is the goal of Olmstead and many people in the disability community.
"It's important for us to frame the conversation," he said, "and share our personal stories."
Swenson would like to thank the many members of the Georgetown community who helped him make this event possible, especially Professor Dori Bernstein for early and continuing advice, his fellow editors at the Georgetown Journal of Poverty Law and Policy, and the Office of Journal Administration.