Georgetown Law Celebrates 2021 Orientation: Back on Campus, Ready to Connect and Learn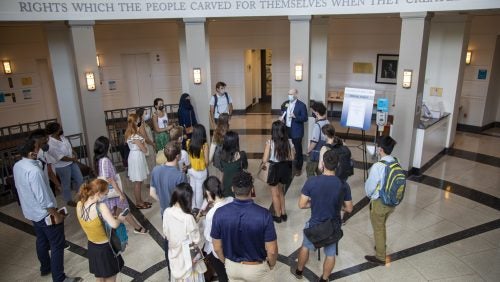 As Dean William M. Treanor removed his mask to greet the 1Ls sitting before him in Hart Auditorium, a smile spread across his face. Finally, after nearly a year and a half -- a room full of students!
"I'm so delighted to see all of you," he said as he began his welcome remarks for incoming J.D. students during last week's orientation. "This has been a very difficult year for everybody. For this community, for the nation, for the world. But it's also a time in which we raise our hope for the future — and you are the future."
As the coronavirus pandemic continued its hold on the United States over the summer, Georgetown University required that all students, faculty and staff be vaccinated before returning to campus and Washington, D.C.'s mayor imposed a mask mandate for indoor settings. The lobby of the Scott K. Ginsburg Sport and Fitness Center has been transformed into a COVID-19 testing clinic.
But the traditions of introducing the Law Center's newest members to the motto "Law is but the means, justice is the end" and promoting the Jesuit value of "cura personalis," or "care for the whole person," continued as in years past.
NEW STUDENTS BY THE NUMBERS
Even before arriving on campus, the entering class set a high standard. More than 14,000 individuals applied for admission to the J.D. program — a new record for U.S. law schools. The 561 new 1Ls chosen from that pool not only hold the school's highest-ever median LSAT scores and grade point averages, they also make up the most diverse class in Georgetown Law history: 40% people of color, and 54% women.
The Law Center's graduate programs have reason to celebrate as well, returning to full strength after a year in which a number of international students were unable to come to the United States because of pandemic-related travel restrictions. But this fall, 541 new LL.M., S.J.D., M.L.T., M.S.L. and specialized certificate students are in Washington, hailing from 67 different countries and speaking 58 different languages.
Assistant Dean for Graduate Admissions Caryn Voland said that over the past year she and her colleagues held a series of Zoom events for admitted LL.M. students — some of whom had planned to enroll last year but deferred until they could safely travel. They hosted a variety of speakers, including several alumni, and presented a virtual tour of D.C.
"It helped them connect and get used to seeing each other — but this year, I am so happy to have our people get here from all over the world," she said.
Given that many new graduate students come from countries where COVID-19 vaccines are less available and are in the process of getting vaccinated now, most of the LL.M. orientation sessions took place online. Voland said her team was planning some in-person events for their students for later in the semester, once everyone was fully vaccinated.
A few other groups of students had special gatherings during orientation week. The 106 transfer students had a morning of speakers followed by a picnic lunch and opportunities to interact in smaller groups. And 2L students, most of whom did their first year of law school entirely online, had a chance to tour the campus before classes began.
"PRACTICE LAW, PRACTICE WELL"
Orientation offered a taste of the wealth of academic opportunities and career planning resources at Georgetown Law. Several professors taught introductory classes so students would be familiar with the law school style of classroom engagement before the official start of the semester. Other professors — several of whom themselves have real-life experience arguing before the Supreme Court — presented a moot court preview of New York State Rifle & Pistol Association Inc. v. Bruen, a Second Amendment case the actual Supreme Court will hear this term. Many students took advantage of library tours.
1L Rachel Uretzky said she especially appreciated the classroom introduction session with Professor from Practice and Supreme Court Institute Director Irv Gornstein, which helped ease her nerves about the "unknown" aspects of law school.
"He made it more tangible, so I wasn't nervous for my first class," said Uretzky. "I knew what I was walking into."
All of the week's speakers were mindful of the unique circumstances of the moment. Starting law school is always a bit daunting, but this year's students arrive against the backdrop of not only a global pandemic, but also heightened political and racial divides..
Again and again, students were reminded to take care of themselves, look out for each other and use the resources available under the umbrella of what Georgetown Law calls "PracticeLawPracticeWell." These include a wide variety of wellness programs, from exercise classes to mental health services to spiritual support.
Director for Mission & Ministry Amy Uelmen (C'90, L'93, L'16) led several sessions under the title "Defining Success in Law School: Your OWN Version." She invited students to brainstorm about ways to measure success beyond grades. They proposed ideas like discovering new passions, finding ways to make a difference in the world and building networks of friends and colleagues.
In another gathering, Associate Dean for Equity and Inclusion Sheila Foster urged students to embrace respectful engagement with classmates from all backgrounds.
"One of the skills that you're going to need wherever you practice is to work across differences," said Foster, who is also the Scott K. Ginsburg Professor of Urban Law and Policy. "Be open to developing relationships. Don't shy away, even if you think you disagree. We're a better community when we feel connected to each other."
Louisianan Tyler Bates (L'24) says that Georgetown Law's diversity was one of the main reasons he chose to come here.
"I want to give myself the best chance to really be helpful in whatever area of life I want to pursue," he said. "So I looked at everything in terms of having experiences that are more representative of what America is, and really broadening my horizons."
Monika Gindy, a 1L from Lancaster, Pennsylvania, found the orientation's tone very reassuring.
"Coming in, you hear a lot of thoughts and predictions about what law school's going to be like, how competitive it is," she said. "I was so surprised by how friendly everyone was."
CLASSROOMS AND CAMARADERIE
Gindy and Bates both took part in a pre-orientation offered by RISE, a program designed for incoming students from backgrounds underrepresented in law school and the legal profession. This year, 109 students are in the RISE program, the largest cohort yet.
Arizona native Dustin Vesey (L/M.S.F.S.'24) said he had benefited from a similar program for first-generation college students when he started college, so was eager to join RISE as he began law school. He is enrolled in a dual degree program at Georgetown with the Law Center and the Walsh School of Foreign Service, and spent the past year focusing on the master's degree portion. He said he especially appreciated the mock classes and practice exam offered by RISE for helping him feel better equipped to start on his J.D.
"Law school is an entirely different educational endeavor; it requires the development of new skills, study habits, and methods for analyzing ambiguities and unknowns," said Vesey. "The mock classes gave us a chance to start getting into that mindset."
1L Sandra Fernandez is part of Georgetown Law's evening program while she continues her job with a federal agency. The daughter of immigrants from Cuba and Colombia, she said that for her, one of the most valuable aspects of RISE was being able to connect with upperclass students. Not only did she get some good advice about time management apps, when she shared how difficult the pandemic has been for her family in Florida both financially and health-wise, one student offered to loan her a textbook so she wouldn't have to buy it this semester.
"That camaraderie was unexpected and honestly, a huge relief," said Fernandez. "RISE was everything!"
GRATEFUL AND READY
One of the major themes across orientation was gratitude that it was once again possible to be together on campus. Spencer Shellnutt (L'24) said that one of her favorite things was seeing how happy all the week's presenters were to be reunited with students.
"I could feel the genuine excitement of the administrators and professors to be here with us. That enhanced the experience and made me even more excited," she said. "We're lucky to be able to have class in person."
Georgetown Law's brand-new Director of Student Life, Sarah Stanley, echoed Shellnutt's sentiment.
"The past couple of years have been isolating. We have all so craved community and engagement. And we worried — is masking going to tamp that down?" said Stanley. "But I feel like people were just really pumped to get back together."
"The students here have blown me away with their engagement, their kindness, their empathy. They're all so dang smart, and ready to be here," she continued. "When you come back with those moments of grace and compassion, and then you head into this really exciting academic experience? Now we're off to the races!"