Blume Leaders in Residence 2022 Class
  Marie Claire Tran-Leung
Residency Dates: Wednesday, September 14 – Friday, September 16, 2022. 
Marie Claire Tran-Leung is the Evictions Initiative Project Director and a senior staff attorney at the National Housing Law Project. She engages in policy and legal advocacy at the federal and state level to prevent evictions and increase tenant protections to help keep individuals and families housed. Marie Claire has also engaged in extensive advocacy at the intersection of housing and the criminal legal system. Having authored the seminal report When Discretion Means Denial: A National Perspective on Criminal Records in Federally Subsidized Housing, she has testified before Congress and engaged in extensive administrative advocacy in favor of federal housing policies that are more inclusive of people with arrest and conviction records. At the state and local level, she has advised local advocates and elected officials on fair chance ordinance campaigns, and she played a central role on the steering committee of a successful campaign to add the Just Housing Amendment to the Cook County Human Rights Ordinance in 2019. Before joining NHLP in February 2022, Marie Claire worked for over 14 years at the Shriver Center on Poverty Law. In her most recent role, she directed the organization's Legal Impact Network, a multi-state advocacy network comprised of unrestricted state-level, multi-issue law and policy advocacy organizations working toward economic and racial justice. Before that, she was a senior staff attorney on the Shriver Center's housing team, leading the portfolio on housing access for people with arrest and conviction records. She currently sits on the board of directors of the National Low Income Housing Coalition. A 2010 Soros Justice Fellow and 2016 alumna of the Shriver Center's Racial Justice Institute, Marie Claire strives to infuse community-driven advocacy throughout her work.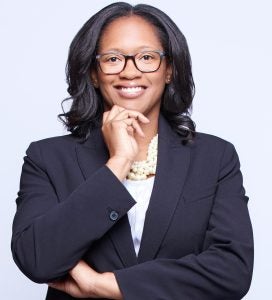 Saba Bireda
Residency Dates: Tuesday, September 20; Thursday, September 22 – Friday, September 23, 2022 (Please note updated dates)
Saba Bireda is a Partner at Sanford Heisler Sharp and Co-Chair of the firm's Discrimination and Harassment Practice Group.
Since joining Sanford Heisler Sharp, Saba has been named by the National Law Journal as one of Washington, DC's Rising Stars. The Profiles in Diversity Journal also recognized her among its Women Worth Watching in Leadership and as a Black Leader Worth Watching. Saba was recently named a Lawdragon 500 Leading Plaintiff Employment Lawyer and recognized on the National Black Lawyers Top 100 list.
At Sanford Heisler Sharp, Saba's practice has focused on discrimination, harassment, and retaliation matters, representing individuals and classes. Saba's representations have included litigating on behalf of a class of African American deputy U.S. Marshals and candidates for deputy U.S. Marshal positions in their hiring, promotions, and headquarters assignments claims against the U.S. Marshals Service and co-authoring a Supreme Court amicus brief on behalf of members of Congress in Bank of America/Wells Fargo v. City of Miami.
Saba received her law degree from Harvard Law School and her Bachelor of Arts from Stanford University. While at Harvard, Saba was an Executive Articles Editor for the Civil Rights-Civil Liberties Law Review and a teaching assistant for Professor Lani Guinier.
Saba is a member of the District of Columbia and Pennsylvania (inactive) bars. Saba has written and spoken on a variety of topics related to civil rights, employment law, and education. She has authored and been quoted in articles that have appeared in publications such as The Washington Post, The American Lawyer, and Law360. Saba has served as an adjunct professor at the UDC David A. Clarke School of Law and the American University School of Education. She is a member of the DC Bar Rules of Professional Conduct Review Committee, the Washington Council of Lawyers, the Greater Washington Area Chapter of the National Bar Association, and on the boards of Advocates for Justice and Education, the National Student Legal Defense Network, and Children's National Hospital. Saba was appointed by DC Mayor Muriel Bower to serve two terms on the District of Columbia Public Charter School Board.
Before joining Sanford Heisler Sharp, Saba was a member of the senior political staff at the U.S. Department of Education, including two years in the Office for Civil Rights, during the Obama Administration. She also worked as a lawyer with Morgan Lewis, the Education Law Center of Pennsylvania, the Poverty and Race Research Action Council, and EducationCounsel. Saba started her career as a middle school English teacher in Washington, DC as a member of Teach for America.
Tatyana D.
Residency Dates: Wednesday, October 5 – Friday, October 7, 2022
Tatyana has over 10 years of experience in immigration law and policy. She has served immigrants in various capacities and held leadership roles that focus on improving access to immigration benefits. Currently in her work, she focuses on asylum and refugee policy. She has experience supervising teams of attorneys and volunteers, and providing training and technical assistance on immigration law. While working at several non-profit organizations, she worked on the national implementation of Deferred Action for Childhood Arrivals (DACA), engaged in advocacy on immigration policy, and handled cases for individuals applying for various immigration benefits.
Tatyana has a B.A. in Government and Politics/Broadcast Journalism and a J.D. from the Georgetown University Law Center.
Lauren Gottesman
Residency Dates: Wednesday, October 19 – Friday, October 21, 2022. Sign up for a one-one appointment.
Lauren Gottesman is currently a Staff Attorney at the Innocence Project's Strategic Litigation Department, where she is responsible for developing and executing the organization's national litigation strategy aimed at preventing the elicitation and admission in evidence of coerced and, potentially, false confessions. Her work includes the filing and arguing of amicus curiae briefs in state supreme courts around the nation and co-counseling cases that have potential to set favorable precedent on the issue of coercive interrogation. Prior to joining the Innocence Project, Lauren was a public defender at the Legal Aid Society's Manhattan Criminal Defense Practice. During her last year at the Legal Aid Society, Lauren worked in their Decarceration Project, where she provided consultation, training, and direct advocacy regarding pre-trial detention issues. Lauren was also part of the core team at the Legal Aid Society that, during the onset of the COVID-19 pandemic, litigated various "en masse" writs of habeas corpus, which led to the release from custody of many people who were at high risk of severe COVID-19 health outcomes. 
Before her work at the Legal Aid Society, Lauren clerked for two years for the Honorable James L. Dennis on the United States Court of Appeals for the Fifth Circuit in New Orleans, LA. Lauren graduated from Cardozo Law School in 2013, and from Trinity College in 2008.
Angelo Mathay
Residency Dates: Wednesday, November 2 – Friday, November 4, 2022
Angelo Mathay is currently a Trial Attorney on assignment to the Immigration and Employee Rights Section of the U.S. Department of Justice, Civil Rights Division.
He is an Administrative Judge at the United States Equal Employment Opportunity Commission based in Raleigh, North Carolina, where he adjudicates employment discrimination claims filed by federal employees in three southeastern states.
Previously, he worked at various immigration law and policy-related organizations in Washington, D.C., such as the National Immigration Law Center, Migration Policy Institute, and The Pew Charitable Trusts. Before coming to North Carolina, he was a Program Officer with the Robin Hood Foundation in New York City, where he managed part of the immigration legal services and the food security portfolios.
Angelo currently serves on the North Carolina Human Relations Commission (Chair, Fair Housing Committee), American Bar Association Commission on Immigration, and the North Carolina Advisory Committee to the U.S. Commission on Civil Rights. He is a Fellow of the American Bar Foundation.  He is also a member of the Susie Sharp Inn of Court and Wake County Bar Association Public Service Committee.
This fall, Angelo is teaching a course on Administrative Law at North Carolina State University's School of Public and International Affairs. He will also be a Blume Leader in Residence at Georgetown Law Center, advising, mentoring, and teaching Blume Scholars and other Georgetown students committed to the public interest.
Angelo earned his bachelor's degree from the University of California, Los Angeles, and his Juris Doctorate from the University of California, Los Angeles School of Law, with a specialization in Public Interest Law and Policy.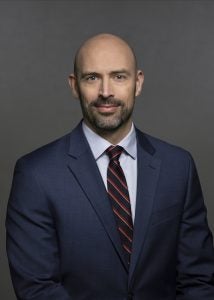 Andrew Boyle
Residency Dates: Wednesday, November 9 – Friday, November 11, 2022
Andrew Boyle is a Legal Officer at an international tribunal. He was previously Counsel in the Liberty and National Security Program of the Brennan Center for Justice, where he worked on advocacy concerning emergency powers. Before that, he served as a prosecutor at the United Nations Assistance to the Khmer Rouge Trials, where he prosecuted former Khmer Rouge leaders for atrocity crimes. He has also worked as attorney in the Trial Chambers of the UN International Criminal Tribunal for Rwanda, where he worked on cases flowing from Rwanda's 1994 genocide. At the beginning of his legal career he was a Fellow in the Democracy Program of the Brennan Center for Justice working on campaign finance reform, and he clerked for the Honorable Helene N. White of the U.S. Court of Appeals for the Sixth Circuit. Andrew is a graduate of UCLA School of Law and its Epstein Program in Public Interest Law and Policy.