Students, Faculty, Staff Remember Cedric Asiavugwa (L'19)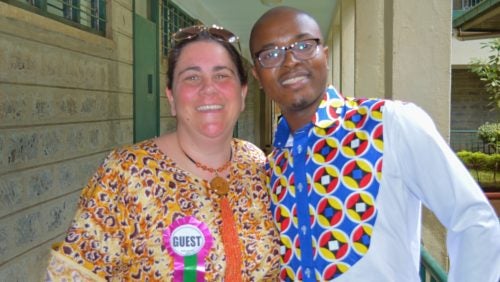 Nicole Fauster (L'20) met Cedric Asiavugwa (L'19), her Georgetown Law public interest mentor, in the fall of 2017, when she entered Georgetown Law as a member of its Public Interest Law Scholars program.

They were in the same mentorship group in PILS, later known as the Blume Public Interest Scholars Program. In her second year, as president of the Muslim Law Students Association, Fauster also worked with Cedric, as the friendly 3L worked in Campus Ministry.

"He was Campus Ministry's go-to guy," Fauster said. "I definitely saw him on a very regular basis, putting together programming…whenever you passed by Campus Ministry, he was at that table, doing work, assisting the chaplains. One of the reasons I would go to Campus Ministry when I was going from class to class was to say hi to Cedric. He is definitely going to be someone whose loss will be deeply felt."

Cedric Asiavugwa died on the morning of Sunday, March 10, as he was traveling home to Kenya during Georgetown Law's spring break. He was one of 157 passengers on Ethiopian Airlines Flight ET302 that crashed near Addis Ababa.
Staff, students and professors all said that there was no corner of Georgetown Law that was not made better by this one remarkable international student. This is also true of Georgetown University, where Cedric lived as a Resident Minister on the second floor of the New South dorm.
"We need students like Cedric. He enriched everyone," said Georgetown Law Dean William M. Treanor. "Not just the Law Center and Main Campus, but the nation and the world. We are saddened for what we've lost, and the possibilities we've lost."
He will also be missed at St. Aloysius Gonzaga High School in Nairobi, where he served as director of Development before law school. He continued to work as much as 20 hours a week for the school as a law student, raising funds and traveling within the United States.
"He was involved in so many different activities involving so many different causes," said Father James McCann, S.J., director of Campus Ministry, who recalled Cedric as a modest, self-effacing man. "He did this in such an adept way."
At Campus Ministry
In the Office of Campus Ministry, a sympathy card now rests on the same table where Cedric worked during his 2L and 3L years, as much as 20 hours a week. He was in the office every day, said Mary Novak, associate director for Ignatian Formation at Georgetown Law.
For a law student worker, Cedric had a unique set of credentials. Born in Mombasa, Kenya, on July 24, 1986 — a member of the Luhya tribe — he joined the Jesuits in 2007 and spent the next eight years discerning a vocation. Although he would ultimately turn to the law, he spent two years in the Jesuit novitiate in Arusha, Tanzania, before studying philosophy at the University of Zimbabwe, graduating with highest honors, in 2013.
He next went to Nairobi, to work at the Jesuit Hakimani Center on Social Concern — developing a passion for refugee law. He then joined the staff at St. Aloysius Gonzaga High School in Nairobi during 2015-16. It is a school for students affected by HIV/AIDS, having lost one or both parents.
Father Terry Charlton, S.J., the cofounder of St. Aloysius (and Cedric's Jesuit vocation director in Kenya), suggested that Cedric apply for the job after he discerned that the priesthood was not for him. Another mentor in the Jesuit community had already suggested that he apply to Georgetown Law, and he needed a year as a bridge.
"The key is his concern for others, and his concern for those who are most in need — the poor, the marginalized," said Charlton. "That's why he had such a dream of working with refugees, in refugee law."
Five days after Cedric's death, Charlton still speaks of him in the present: "He's received his knocks through life, experienced some woundedness [partially for being bullied due to his small stature]. It's really out of his faith perspective…that's he's experienced healing from that, becoming a grounded and well-rounded person. That's a part of the key of his sensitivity and concern for others. Especially for the poor, for the marginalized, but that's also why he's so effective generally, with everybody. He's there for whoever he is with."
Cedric served on the board of directors of St. Aloysius, and until three days before his death, was planning to spend spring break in Chicago at a board meeting, said Novak. The school, she said, was in the middle of the largest slum in Nairobi.
"He loved this school, and he would often say about upcoming weekends, 'I have a board meeting; I have to go to New York.' There's a youth contingent in the United States; they now want to be part of the memorial."
Jewish Chaplain Michael Goldman (L'69) related how Cedric, as part of his office duties, would obtain food for Torah study on Fridays — and ended up being part of the group. During the week, he said, students would often come in to the office to talk to a chaplain, but leave after talking to Cedric at the table, because he made them feel better.
"The most amazing thing about Cedric was, you would have no clue as to the depth of experience he had," Goldman said. "He didn't talk about being an international global student, he didn't talk about being a public interest law student. He was very humble, very modest."
Scholarship
Before he even arrived on Georgetown Law's campus in the fall of 2016, Cedric was selected to be a Blume Public Interest Scholar and a Global Law Scholar.
Barbara Moulton, director of Georgetown Law's Office of Public Interest and Community Service, was impressed by this soft-spoken and compassionate law student at a dinner for the Public Interest Law Scholars Program — now called the Blume Public Interest Scholars Program. Blume Scholars are selected for extensive public service experience and a demonstrated commitment to pursuing a public interest legal career. Cedric also worked for OPICS as a student worker during his 1L year.
"It was quite a cultural change for him, and that may have been the religious/spiritual part, but I think this was the first time he lived in the United States," said Moulton.
Professor David Stewart, who directs the Global Law Scholars program with Professor Mary DeRosa, called Cedric "the model of a GLS scholar"— a first-class scholar who spoke seven languages and had lived or worked in six countries, visiting a dozen others. "He was a very committed humanitarian," Stewart said. "He showed every indication of pursuing a highly productive and accomplished life at the international level."
As a Global Law Scholar, Cedric diligently completed a group project on election interference in international law, said his fellow GLS classmate Junsuk Lee (L'19).
"His portion of the project was about the role of civil society and media in foreign interference in domestic elections through support and information channels," Lee explained. "He specifically focused on a case study of Kenya."
As a 2L, Cedric participated in the International Women's Human Rights Clinic and took Adjunct Professor Melissa Reinberg's Negotiation and Mediation Seminar. When the seminar was over, he co-taught two eight-week negotiations classes with Reinberg at a D.C.-area women's homeless shelter, Calvary Women's Services.
"His commitment to social justice for all and for the people of Kenya in particular was deep and genuine," Reinberg said, noting that he wrote a sophisticated, insightful paper about how court-mandated mediation could be improved for rural Maragoli women.
Cedric earned the highest grade in the course.
Finding His Calling
He returned to Kenya for both his one 1L and 2L summers, working for a Nairobi law firm. But Cedric's particular passion was refugee work, which he was beginning to develop through the lens of environmental justice. Last fall, he participated in the Center for Applied Legal Studies clinic, which represents refugees seeking asylum in the United States.
"He threw himself into advocacy for a young man who was seeking asylum in the United States," said Professor Philip Schrag, who co-directs the CALS clinic. Cedric, he said, was an active and creative participant in the clinic's seminar, regularly contributing suggestions to fellow students and helping their clients to win asylum. "He spoke to me often of his plan to return to Africa and use his legal training to assist refugees."
In the meantime, he was content with his life at the Law Center, and also on Main Campus. Cedric was a Pedro Arrupe Scholar — awarded to students at Georgetown University to enable international students with financial need, from a country with social conflict, to attend, said Fr. Gregory Schenden, S.J.
Cedric reached out to the Jesuit community when he arrived at Georgetown and soon became a Resident Minister, living on the second floor of the New South Residence Hall. The position is reserved for those with divinity training, and Cedric took care of undergraduates when he left the Law Center each night.
Freshman undergraduates face a challenging, transitional year, Schenden said. "But [this] was something he did with real grace and real love…that sense of generosity and hospitality with the students here, being available for them."
Legacy
In the aftermath of the tragedy, Fauster remembers last fall, when she and Cedric were planning their flights home to Africa over winter break — Asiavugwa to Kenya, Fauster to Uganda. Fauster was struggling to find tickets, and in the Campus Ministry office, Cedric offered to help. "We were talking about it all last semester… He helped me very much, ran searches for tickets to Uganda. He woke up on a Sunday morning when the ticket prices are supposed to be cheapest, and helped me look," Fauster said. "And when I finally got my ticket to Uganda, he invited me and my fiancé to come visit him in Kenya."
They never had the visit. On the Thursday before spring break, an uncharacteristically upset Cedric told Novak that he needed to change his travel plans from Chicago to Kenya. He needed to travel home to be with his fiancée, who had just lost her mother. In the meantime, he needed to talk. He loved his fiancée, he loved her mother. He told Novak: "I just have to go. I just have to go." The soonest he could fly out was Saturday.
On Sunday morning, Father McCann woke and saw news of the tragedy. Hoping against hope that Cedric had taken another flight, he called Charleton, who was waiting for Cedric in Nairobi. McCann asked if Cedric was safe; Charleton said no.
In Kenya on Friday morning, March 15, Charleton had mass with the senior St. Aloysius students in Nairobi, who knew and remembered Cedric as a staff member. Charleton urged them to follow his example — day by day, becoming all that you can become. Already, Cedric had plans to speak at an environmental justice event in April and to work at a law firm in Cincinnati this summer.
"He was just beginning to realize his potential," Charleton said. "He had so much possibility, so much that he might accomplish. But we just have to take what he's done, and what he's lived."
Memorials
You may share your own memories of Cedric by visiting his memorial page.
The Offices of CAPS, Campus Ministry and the Office of the Dean of Students will host a second community meeting this coming Monday, March 18 at 4:00 pm. in McDonough 520. This an informal opportunity for students, staff and faculty to remember, listen, share and grieve together. RSVP is not necessary. The Office of Campus Ministry also welcomes visitors throughout the day on Monday who may be seeking solace before the community meeting.
Messages to the Asiavugwa family may be sent to Cedric's father (Thomas Asiavugwa) and mother (Rosalia Kavai Asiavugwa) at vidambuhumphrey90@gmail.com
Law students have organized a GoFundMe page so that those wishing to assist Cedric's family may do so.
Donations in Cedric's memory may be made to the School of Hope Foundation, which supports St. Aloysius Gonzaga Secondary School serving AIDS-affected Youth and other Orphans, the high school in Nairobi where Cedric served as assistant director for advancement. Donate at www.schoolofhopekenya.org/donate  or send checks to:
School of Hope Foundation
1010 N. Hooker Street
Chicago, IL 60642
A memorial service is being planned to celebrate Cedric's life and many contributions to Georgetown and the broader social justice community.