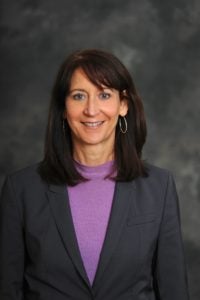 Professor from Practice; Co-Director, Global Law Scholars Program
Mary B. DeRosa
B.A., University of Virginia; J.D., George Washington
Areas of Expertise:
Mary B. DeRosa served as Deputy Assistant and Deputy Counsel to the President, and as National Security Council Legal Adviser in the Obama Administration. After leaving the White House in the Summer of 2011, she served as Alternate Representative of the United States to the 66th Session of the UN General Assembly, an Ambassador-level position with the US Mission to the United Nations. Prior to joining the Obama Administration in 2009, Ms. DeRosa was Chief Counsel for National Security for the Senate Judiciary Committee, working for the Chairman, Senator Patrick Leahy. She has also been a Senior Fellow at the Center for Strategic and International Studies, served on the staff of the Clinton Administration National Security Council as Legal Adviser and Deputy Legal Adviser, and was Special Counsel to the General Counsel at the Department of Defense. Before joining the government, Ms. DeRosa was in private practice at Arnold & Porter. She served as a law clerk to the Honorable Richard Cardamone, United States Court of Appeals for the Second Circuit.
Contributions to Law Reviews and Other Scholarly Journals
Selected Contributions to Other Publications
Forthcoming Works - Book Chapters & Collected Works
Mary DeRosa,
Congressional Oversight of US Intelligence Activities
,
in
National Security Intelligence and Ethics
(Seumas Miller, Mitt Regan & Patrick F. Walsh eds., Routledge forthcoming).
Mary DeRosa,
Lawyering and the Use of Force in Libya and Syria Operations
,
in
Research Handbook of Law and Diplomacy
(David P. Stewart & Margaret E. McGuinness eds., Edward Elgar forthcoming).
Mary DeRosa & Mitt Regan,
Accountability for Targeted Killing
, in
Counter-Terrorism: The Ethical Issues
(Jonas Feltes ed., Edward Elgar forthcoming).