Chaplains & Staff
Chaplains are here to support students of all religious and non-religious identities during their time at Georgetown. Whether you're discerning professional or personal choices, seeking spiritual direction or religious community, or simply trying to find balance and strength in a challenging time of life, we are available to assist you.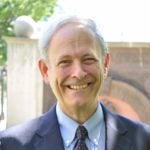 Michael Goldman
Jewish Chaplain
McDonough 113B
202.662.9297
Email Michael Goldman
A Georgetown University Law Center graduate and a lawyer in a previous career, Michael has been the Jewish Chaplain for the Law and Medical Centers since August 2002. He has been a student of Judaism for his adult life and has taught numerous courses on Judaica, including courses at Georgetown Law and Medical Centers.  Michael endeavors to help students of whatever religion/spirituality (or not) find a home at Georgetown Law.  Michael was instrumental in bringing Lawyers in Balance to Georgetown Law and believes that attention to mindfulness helps law students navigate law school and lawyers handle the pressures of practice.
Watch Michael's reflections on the COVID-19 pandemic here.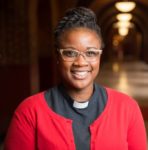 Rev. Ebony Grisom
Interim Director of Protestant Christian Ministry
McDonough 113
202-662-9826
Email Rev. Ebony Grisom
Rev. Ebony Grisom is the Protestant Chaplain on the Law and Main Campuses. Rev. Grisom is in ordained in the American Baptist Churches USA. She received her Bachelor of Arts from the University of North Carolina at Charlotte in African-American/African Studies and her Master of Arts from Providence College in American History. She completed her seminary education at Duke Divinity School, receiving a Master of Divinity with a concentration in Christian Education and a certificate in Gender, Theology and Ministry.
Rev. Grisom began her career in education, working in secondary and post secondary admission offices in Connecticut, Massachusetts, Rhode Island, and North Carolina. Prior to Georgetown University, Rev. Grisom served in a faith-based anti-poverty non-profit, and two Baptist churches, where she equipped faith leaders and people of faith to act against the sin of poverty. To that end, she is a past Co-Chair of the Rhode Island Poor People's Campaign: A National Call for Moral Revival. In addition to her work at Georgetown, she is the Co-Convener of the National Council of Churches of Christ in the USA's Convening Table on Joint Action and Advocacy for Justice and Peace. Her call to Georgetown University melds her experience in higher education and the parish, allowing her to meet God's People at the intersection of the Church and the academy.
Watch Rev. Grisom's reflections on the COVID-19 pandemic here.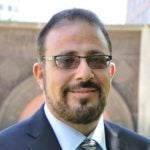 Imam Yahya Hendi
Muslim Chaplain
202.480.0172
Email Imam Yahya Hendi
Imam Hendi is the Muslim chaplain at Georgetown University, the first American university to hire a full-time Muslim Chaplain. Imam Hendi is also the Imam of the Islamic Society of Fredrick and is the Muslim Chaplain at the National Naval Medical Center in Bethesda, MD. He servers as a member and the spokesperson of the Islamic Jurisprudence Council of North America. He is an adjunct faculty member at McDaniel College in Westminster, MD. Imam Hendi holds a Master's degree in Comparative Religions from Hartford Seminary in Connecticut and is currently working on his Ph.D. in Comparative Religion. In May 2002, Imam Hendi was selected by Hartford Seminary to receive its annual "James Gettemy Significant Ministry Award" for his dedication to his Ministry and for his work to promote peace-building between people of different religions.
Imam Hendi has written numerous publications on many topics, including women in Islam, women and gender relations in Islam, the coming of the Messiah, and religion and Islam in the United States. He has presented a multitude of interfaith and general lectures in the United States, Asia, Europe, central Asia, Eastern Europe, and the Middle East in the last eight years. He was one of the Muslim leaders who met with the President of the United States in the aftermath of September 11 tragedy. Hoping to create positive relationships between the followers of the three Abrahamic religions, Imam Hendi often visits and lectures at churches and synagogues. He also serves on national and international interfaith councils.
Imam Hendi offers Muslim retreats. He often leads Qiyamul-lail prayer and Jum'ah (Friday services). He also counsels students on academic, professional, and social issues. Imam Hendi believes that only with love and education can the world be a better place to live in.
Watch Imam Hendi's reflections on the COVID-19 pandemic here.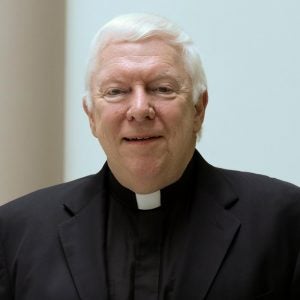 James McCann, SJ, PhD
Catholic Chaplain
McDonough 113
202.662.9296.
Email Fr. James McCann
Fr. Jim McCann, S.J. is the Catholic Chaplain at Georgetown's Law Center. Raised by an immigrant widowed mother on the South Side of Chicago at a time of high racial tension, Fr. McCann joined the Jesuits at an early age  and completed his undergraduate studies at the University of Detroit.  Loving languages, he received his only academic credits from Georgetown after a summer at LSU, Leningrad (now St. Petersburg) State University, in the then USSR.  After two years of high-school teaching (Russian and French), he went to Yale University for a master's degree in Russian and East European Studies and actually took two seminars at Yale Law School.
Following theological studies at Centre Sèvres, the Jesuit school in Paris, he was ordained a priest and worked in a diocesan parish.  He completed a doctorate at Princeton University, specializing in international politics while helping out as a part-time student chaplain. He has taught at Loyola University Chicago and Xavier University in Cincinnati. He headed the U.S. Office to Aid the Church in Central and Eastern Europe and the Former Soviet Union and later served as rector of the Oriental Institute in Rome, a graduate school specializing in the Christian East. For about ten years of his life, he has lived in Europe and Central Asia.  He speaks several languages and enjoys encountering students of every faith tradition from all over the world.  Fascinated by issues at the intersection of faith and politics – especially peace and reconciliation — he has been the Catholic Chaplain at Georgetown Law since 2018.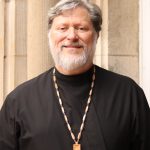 V. Rev. David Pratt
Orthodox Christian Chaplain
Healy Hall 113
202.687.4300
Email V. Rev. David Pratt
The V. Rev. David Pratt is our Orthodox Christian Chaplain. He is an archpriest in the Russian Orthodox Church. He has held the position of associate professor of philosophy at St. Martin's University in Washington for the past ten years, and the position of sessional professor of pastoral practice at New York Theological Seminary for the past five. Fr. Pratt previously served 23 years as a U.S. military chaplain and ethicist. He holds a Ph.D. in comparative ethics from the University of Louvain, an S.T.L. from the Jesuit School of Theology at Berkeley, and an M.Div. from St. Vladimir's Orthodox Theological Seminary.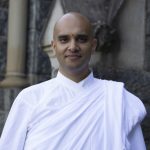 Brahmachari Sharan
Director for Dharmic Life and Hindu Spiritual Advisor
Healy Hall 113
202.687.4300
Email Brahmachari Sharan
Dr. Sharan serves as the Director for Dharmic Life and Hindu Spiritual Advisor for Campus Ministry. In this role, he works to facilitate experiences and deepen knowledge about the Śaiva, Sākta, Vaiṣṇava, and Smārta Dharmas (Hindu), and co-ordinate the same for the Buddhist, Jain, and Sikh Dharmas. After becoming part of an ancient forest monk tradition, Dr. Sharan pursued studies at the University of Delhi and then the University of Oxford before gaining his PhD in Sanskrit at the University of Edinburgh before joining Georgetown University as the first Hindu Priest and Monk to serve at a Catholic institution. From indigenous and folk music, dance, languages, and diasporas to Āyurveda and international cuisine, Prakṛti and quantum theory, Yoga and care for the body-mind-intellect, Vedānta and thinking beyond the norms of society, Dr. Sharan enjoys learning about the connections of the new with the timeless. As spirituality is the pre-religious heritage of all peoples of mother Earth, Dr. Sharan desires to connect anyone who has an interest in the spiritualities of the East with the resources to find out and experience more.