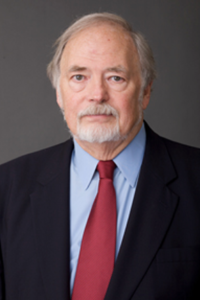 Professor from Practice; Co-Director, Global Law Scholars Program; Director, Center on Transnational Business and the Law
David P. Stewart
B.A., Princeton; M.A., Yale; J.D., Yale; LL.M., New York University
Phone
Office Hours
By appointment: Tuesdays 2-3pm
David P. Stewart teaches in the area of International and Transnational Law and co-directs the Global Law Scholars program and the Center for Transnational Business and the Law. He joined the faculty in 2008 following a career in the Office of the Legal Adviser, U.S. Department of State, where he served as Assistant Legal Adviser for Private International Law, Diplomatic Law and Litigation, African Affairs, Human Rights and Refugees, Law Enforcement and Intelligence, and International Claims and Investment Disputes, among other positions. He was previously in private practice at Donovan Leisure Newton & Irvine in New York City. He also taught as an adjunct professor at the Law Center for over 25 years.
He is past President and current Chair of the Board of Directors of the American Branch of the International Law Association and a member of the American Law Institute (co-Reporter for the Restatement (Fourth), Foreign Relations Law of the United States, published in 2018). He serves on the Board of Editors of the American Journal of International Law and the Secretary of State's Advisory Committee on Private International Law. In 2008 (and again in 2012) the OAS General Assembly elected him to serve on the Inter-American Juridical Committee.
Forthcoming Works - Books
Research Handbook of Law and Diplomacy
(David P. Stewart & Margaret E. McGuinness eds., Edward Elgar forthcoming).
Books
David P. Stewart & David W. Bowker, Ristau's International Judicial Assistance: A Practitioner's Guide to International Civil and Commercial Litigation
(New York: Oxford University Press 2d ed. 2021).
[
BOOK
]
U.S. Supreme Court Briefs
Brief of Davis R. Robinson, Abraham D. Sofaer, David P. Stewart and Edwin Williamson as Amici Curiae in Support of Neither Party, Germany v. Philipp, No. 19-351 (U.S. Sept. 10, 2020).
[
WWW
]
Book Chapters & Collected Works
David P. Stewart & Ingrid Wuerth,
The Jurisdictional Immunities of International Organizations: Recent Developments and the Challenges of the Future
,
in
The Restatement and Beyond: The Past, Present, and Future of U.S. Foreign Relations Law
411-432 (Paul B. Stephan & Sarah A. Cleveland eds., New York: Oxford University Press 2020).
[
BOOK
]
David P. Stewart,
The Emergent Human Right to Consular Notification, Access and Assistance
,
in
The Cambridge Handbook on New Human Rights: Recognition, Novelty, Rhetoric
439-452 (Andreas von Arnauld, Kerstin von der Decken & Mart Susi eds., Cambridge, U.K.: Cambridge University Press 2020).