Staff

Alvaro Bedoya
Alvaro Bedoya is the founding Executive Director of Georgetown Law's Center on Privacy & Technology. He is an expert on digital privacy issues, including government surveillance and commercial data collection, with a focus on their impact on immigrants and people of color. In 2016, he was co-author of The Perpetual Line-Up: Unregulated Police Face Recognition in America, the Center's year-long investigation into law enforcement use of biometrics, and testified before Congress and state legislatures on its findings. Prior to joining the Center, Alvaro served as Chief Counsel to the U.S. Senate Judiciary Subcommittee on Privacy, Technology and the Law, and co-founded the Esperanza Education Fund, a non-profit status-blind scholarship fund for immigrant students. He is a graduate of Harvard College and Yale Law School, where he received the Paul & Daisy Soros Fellowship for New Americans. You can follow him on Twitter at @alvarombedoya.

Laura Moy
Laura Moy is the Deputy Director of Georgetown Law's Center on Privacy & Technology. She has written, spoken, and advocated before federal agencies and Congress on a broad range of technology policy issues, including law enforcement surveillance, consumer privacy, security research, device portability, copyright, and net neutrality. Her current work focuses on policy issues at the intersection of privacy and criminal justice. Before joining the Center, Laura was Acting Director of the Communications & Technology Clinic at Georgetown Law's Institute for Public Representation. Prior to that, she worked at New America's Open Technology Institute and Public Knowledge. Laura completed her JD at NYU School of Law and her LLM at Georgetown. Before law school, Laura analyzed cell site location information for the Manhattan District Attorney's Office. You can follow her on Twitter at @lauramoy.

Katie Evans
Katie Evans manages the communications, finance, and operations of the Center. She also explores the intersection of art, privacy, and technology. Before coming to Georgetown Law, she worked in research centers at American University Washington College of Law, University of Minnesota Department of Global Studies, and University of Texas San Antonio College of Education and Human Development. She has a B.A. in international studies from the University of Minnesota Duluth and an M.A. in political science from Central European University. Her thesis focused on political communication and technology. You can follow her on Twitter at @mskatieevans.

Clare Garvie
Clare Garvie joined the Center as Law Fellow after graduating from Georgetown Law in 2015, and now serves as an Associate. Her current research focuses on the use of face recognition by law enforcement and the ways activists, public defenders, and policymakers can ensure the technology is under control. Prior to entering law school, she worked in human rights and international criminal law with the International Center for Transitional Justice. You can follow her on Twitter at @clareangelyn.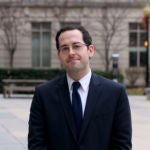 Harrison Rudolph
Harrison Rudolph joined the Center as a Law Fellow in 2016 after graduating from Georgetown Law. His research focuses on the government's use of biometric technologies to track American immigrants and citizens at the border. As a law student, Harrison drafted and pitched commercial facial recognition privacy legislation at the Center's inaugural joint Georgetown-MIT privacy legislation practicum, and participated in Georgetown's Federal Legislation and Administrative Clinic. Harrison also interned at Facebook's policy office. Before law school, Harrison worked as a paralegal at a law firm in D.C. focusing on issues impacting consumer credit reporting agencies. Harrison received his B.A. from The George Washington University in political science. You can follow him on Twitter at @harrisonsethdc.
Faculty

Julie Cohen
Professor Cohen is one of the nation's foremost privacy theorists. Professor Cohen teaches and writes about copyright, information privacy regulation and the governance of information and communication networks. Her recent book, Configuring the Networked Self: Law, Code, and the Play of Everyday Practice (Yale University Press, 2012), was awarded the 2013 Association of Internet Researchers Book Award and was shortlisted for the Surveillance & Society Journal's 2013 Book Prize.

David Vladeck
Professor Vladeck recently returned to Georgetown Law after serving for nearly four years as the Director of the Bureau of Consumer Protection of the Federal Trade Commission (FTC). The FTC is the nation's chief regulatory agency charged with protecting privacy and data security with respect to commercial entities. During his tenure at the FTC, the agency brought over 50 privacy enforcement cases, many against large technology firms, including Google, Facebook, Twitter, Myspace and others. The agency also issued many guidance documents on online and mobile privacy. Professor Vladeck is a member of the National Academy of Sciences Committee on Science, Law and Technology, and is on the boards of the Natural Resources Defense Council, the Center for Democracy and Technology, and the National Consumers Law Center.

Angela Campbell
Professor Campbell is one of the nation's leading advocates for protecting children's privacy. She has taught at Georgetown Law's Institute for Public Representation (IPR), a legal clinical program and public interest law firm, since 1988. IPR represents nonprofit organizations before the Federal Trade Commission and the Federal Communications Commission to enforce and establish media policies in the public interest.

Laura Donohue
Professor Donohue is one of the nation's leading experts on constitutional law, national security law and emerging technology. She directs Georgetown's Center on National Security and the Law. In 2015 she was appointed as an amicus curiae to the United States Foreign Intelligence Surveillance Court under the USA FREEDOM Act. Her articles have been published by California Law Review, University of Chicago Law Review, Stanford Law Review, and numerous other journals. Her most recent book, The Future of Foreign Intelligence: Privacy and Surveillance in a Digital Age (Oxford University Press, 2016), was awarded the 2016 IIT Chicago-Kent College of Law/Roy Palmer Civil Liberties Prize.

Paul Ohm
Professor Ohm is an expert in issues at the intersection of privacy Paul Ohmand technology. As both a lawyer and computer programmer, he writes and teaches about information privacy, Internet law, computer crime, and cybersecurity. He has served as the Senior Policy Advisor at the Federal Trade Commission and as a trial attorney in the Department of Justice's Computer Crime and Intellectual Property Section. You can follow him on Twitter at @paulohm.