Natalie Roisman
Natalie G. Roisman is Executive Director of the Institute for Technology Law and Policy.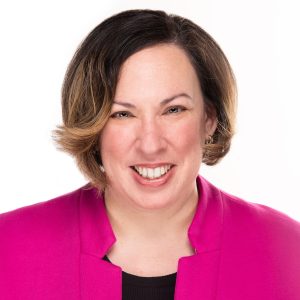 Prior to joining the Institute, she was a partner and Director of Social Responsibility at the law firm of Wilkinson Barker Knauer, LLP (WBK) in Washington, D.C. At WBK, Natalie advised clients on media and telecommunications regulation and provided strategic guidance and advocacy before legislative, executive and regulatory bodies at the state and federal levels. She helped her firm launch new practice areas in privacy and consumer protection, cybersecurity and artificial intelligence and served for many years in leadership roles on associate hiring and professional development. As Director of Social Responsibility, Natalie led WBK's equity, diversity and inclusion initiatives, including founding the firm's Diversity and Inclusion Committee and achieving Diversity Lab's Mansfield Plus Certification as part of the inaugural cohort of midsize law firms.
Natalie is a longtime leader in the Federal Communications Bar Association (FCBA) – The Tech Bar. During her term as president of the FCBA in 2020-21, she led the association through the pandemic and challenged its 1,800 members to use their legal training and technology expertise to promote justice, undo the harms of racism and strengthen democracy. Under her presidency, the FCBA launched the Diversity Pipeline Program, which in its first two years has placed more than 50 law students from historically underrepresented groups in new, paid tech/media/telecom law and policy internships and trained them through a corresponding academic and skills curriculum to support their success. In various FCBA capacities over the past 18 years, Natalie organized programs on a range of tech law and policy issues, including online content moderation and misinformation, privacy, antitrust, intellectual property, and national security.
Natalie taught as an adjunct at the George Washington University Law School for nearly a decade, where she helped GW Law attract the Federal Communications Law Journal and coached the GW Law telecommunications and technology moot court team.
A champion for gender equity in law and tech, Natalie is in her second term as an elected Board member of the Women's Bar Association of the District of Columbia. She founded the WBK Women's Initiative and created the FCBA Women's Summit. She now serves as a co-chair of the FCBA's Women's Leadership Committee.
Natalie previously worked in the Federal Communications Commission (FCC) Media Bureau and as associate and counsel at Akin, Gump, Strauss, Hauer & Feld. She holds a J.D. from the University of Pennsylvania Carey Law School and a B.A. from the University of Chicago.
Natalie currently resides in Arlington, Virginia with her husband and three children. She is a native of Wilmington, Delaware and a lifelong Philadelphia sports fan.