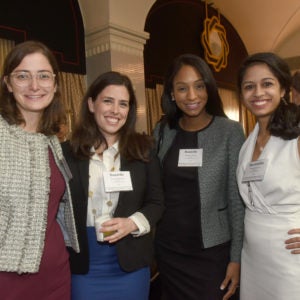 12 p.m. - 2 p.m.
Hotel Monaco, 700 F St NW, Washington, D.C. 20004
DC Alumni Luncheon
Join Dean Treanor, special guest speakers from Georgetown Law's Institute for Constitutional Advocacy and Protection (ICAP), and fellow alumni for our annual luncheon in Washington, DC.

ICAP, led by former Acting Solicitor General and Professor Neal Katyal, Professor Joshua Geltzer, Professor Mary McCord, and Professor Douglas Letter uses the power of the courts to defend American constitutional rights and values. At the heart is its litigation work. In an era when constitutional discourse, including in the context of litigation, tends to be politically polarized, the Institute offers vital understandings of the Constitution and its protections that draw on scholarship and a wide range of practical experience, including extensive service in the Federal Government.

The reception will begin at noon, promptly followed by lunch at 12:30 p.m.
Business attire is suggested.