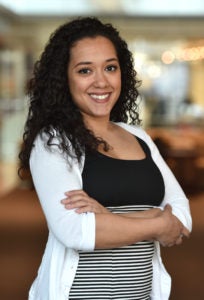 Brigitte was born and raised in Miami, Florida. She graduated Magna Cum Laude from Florida International University in 2016 with a Bachelor of Science in Public Relations. As a former foster youth, Brigitte's passion is advocating for the rights of foster youth in Florida. During her undergraduate studies, she developed a program that would ensure foster youth are aware of their legal rights and benefits prior to aging out of the foster care system.
Brigitte was selected to present her program before members of the Florida Department of Children and Families. She was widely recognized for her work by public officials and nonprofit organizations within her state's child welfare system, and hopes that her program will become a standard requirement for all foster children in Florida.
In addition, Brigitte works with legislators and judges in South Florida to reform child sex trafficking policies in her home state. She believes that outdated policies, a lack of awareness and minimal accountability has given rise to widespread human trafficking in the United States– with foster and homeless youth at the center of this epidemic.Brigitte worked in the human trafficking division of the Miami Children's Courthouse as a G.R.A.C.E Court advisor and advocate for teenage victims of sex trafficking.
While attending Georgetown Law and through mentorship from the PILS community, Brigitte hopes to gain skills in strategic litigation and legislative advocacy for victims of human trafficking and foster youth. It is her objective to continue developing her program and encourage legislative change for at-risk youth.