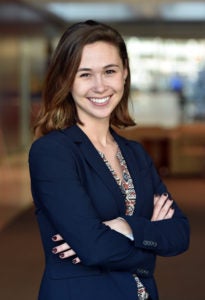 Emma came to Georgetown interested in public defense and its intersection with immigration. Before law school, she spent two years at the Contra Costa Public Defender's Office. She worked on designing and co-piloting their Community Lawyering for Youth Project, which was aimed at providing more holistic and client-centered advocacy for juveniles.
Since starting law school, she has done two externships with the Public Defender Services for the District of Columbia and spent a spring break with the Orleans Public Defenders. Emma spent her 1L summer at the Lawyers' Committee for Civil Rights in San Francisco and her 2L summer at the Office of the Alameda County Public Defender.
She has been fortunate enough to participate in multiple clinics during the academic year. In her 2L year, Emma represented an asylum seeker in immigration court through the Center for Applied Legal Studies is currently defending people charged with misdemeanors and parole violations through Georgetown's Criminal Justice Clinic. After graduation she will spend a year clerking for Judge Easterly on the District of Columbia Court of Appeals then hopes to being her career as a public defender.