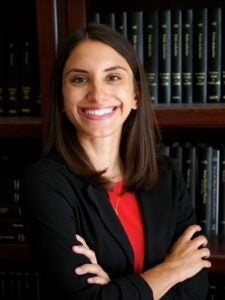 Emma hails from New York City. She graduated from Wesleyan University in 2014 with a B.A. in Government. At Wesleyan, she worked for three years for the Center for Prison Education (CPE). Through teaching classes to incarcerated people, Emma became outraged at the injustice of punitive penal sanctions.
Her senior year, she saw a need for education in juvenile facilities, so she founded and directed a tutoring program. Emma interned in the International Criminal Tribunal for the Former Yugoslavia on the Standby Defense Team for Radovan Karadzic, the former President of Bosnia-Herzegovina charged with genocide. This further formed her interest in ensuring everyone, no matter how heinous the alleged crime, receives the best representation possible.
After graduation, Emma moved to Florida to work for the Southern Poverty Law Center. As a Community Advocate focusing on juvenile justice and education reform, Emma investigated facts for Office of Civil Rights complaints about disproportionately high punishment of students of color, conducted data analyses and presented reports on arrest rates, prison deaths, and corporal punishment, and co-led a campaign to stop Florida's practice of trying children as adults. She is most proud of her work tirelessly traveling through rural Florida interviewing incarcerated kids and advocating for improved conditions of confinement.
At Georgetown Law, Emma plans to focus on criminal defense and prison reform. Dedicated to spending her legal career zealously advocating for the most oppressed members of society, her goal is to use her J.D. to become a public defender, ultimately returning to impact litigation to challenge mass incarceration.
Emma's passion for defense was first evident on the soccer field, where she was dubbed the "most tenacious" player as a kid. A collegiate athlete and an avid hiker, Emma's tenacity has taken her to the top of cliffs around the world.