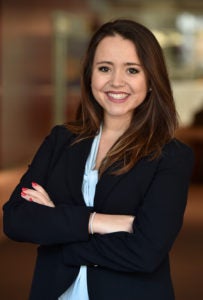 Holly was born and raised in Mississippi and comes to Georgetown with an interest in criminal law. Holly attended Mississippi State University, where she graduated Summa Cum Laude with degrees in Political Science and Criminology, along with a minor in Spanish. She became interested in capital defense work while still in middle school, but her experience attending a Mississippi public school, and later studying criminology, expanded her interest to include other areas of criminal justice and drew her to public defense work.
While in college, Holly spent a summer at the Public Defender Service for the District of Columbia as an intern investigator. She also interned with the capital defense team at the Law Offices of the Shelby County Public Defender in Memphis, Tennessee, where she helped prepare mitigation evidence. With a combined interest in criminal law and public policy, Holly completed her undergraduate research on the impacts of public defense funding and in her senior year, she was named a 2016 Rhodes Scholar Finalist.
While at Mississippi State, Holly also volunteered at Brickfire Project, an afterschool program for at-risk youth. During this time, she founded a mentoring program that pairs college students with youths and works to raise funds for the afterschool program. As a result of her work with Brickfire Project, she was named Mississippi State's 2017 Volunteer of the Year.
Most recently, Holly has spent the past year working abroad in Spanish speaking countries in order to refine her foreign language skills. While volunteering as a teacher in Cusco, Peru, she also helped establish and teach an English course in Cusco's juvenile detention facility.
At Georgetown Law, Holly plans to focus on criminal law and looks forward to preparing for a career in public defense. Ultimately, Holly's passion for public interest work is heavily intertwined with her experience growing up in Mississippi and desire to eventually return to her home state a public defender and advocate for criminal justice reform.