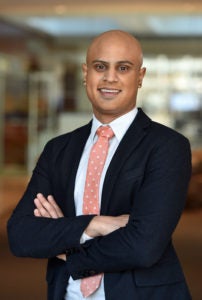 Jagir comes to the Georgetown Law evening program while working on education policy at the Office of Management and Budget (OMB) within the Executive Office of the President. At OMB, Jagir provides policy, regulatory, and budgetary oversight over Federal education programs.
Prior to joining OMB, Jagir served as a budget and policy analyst for over three years within the Office of Planning, Evaluation, and Policy Development at the U.S. Department of Education.  At the Education Department, Jagir also had served as an adviser to the Under Secretary for higher education policy and was a Presidential Management Fellow beginning in 2014.
Jagir's career in education was sparked after teaching in the Mississippi Delta and Durham, North Carolina; working on education community development projects in Sierra Leone, and supporting LGBT and first-generation college students at Harvard College.
Jagir attended Harvard Graduate School of Education, where he earned his master's degree and conducted policy research on early childhood assessments, teacher evaluations, and school finance.  As a Robertson Scholar and first-generation college student, Jagir received a bachelor's degree with highest honors from the University of North Carolina at Chapel Hill and a minor in education and licensure in middle and secondary grades social studies from Duke University.
He hails from South Florida and is eager to learn more about civil rights and education law while studying at Georgetown.