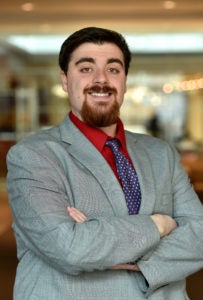 Growing up on the New Jersey shore, Lucas grew up witnessing the dramatic effects that humans can have on the natural world. Before beginning his studies at Georgetown Law, Lucas studied Ecology and Conservation Biology, as well as neuroscience, at Boston University.
While studying there, he earned the Boston University Excellence in Biology Award and the BU Undergraduate Research Award in Ecology for his work on climate change and songbird migration. Following this, Lucas earned his M.S. in Conservation Medicine at the Tufts Cummings School of Veterinary Medicine.
Lucas has worked with Mass Audubon, a Massachusetts-based conservation and advocacy group, both as a field biologist and as a conservation policy intern. In this capacity, he has conducted research and contributed to Mass Audubon's recommendations on offshore wind energy development in Massachusetts. He also helped to develop Mass Audubon legislative district maps for members of the Massachusetts State Special Committee on Environmental, Natural Resources, and Agriculture.
At Georgetown Law, Lucas hopes to continue his work furthering environmental advocacy and education. He hopes to build on his scientific background and gain a deeper understanding of environmental and wildlife issues, especially as seen through the lens of constitutional law. Lucas is particularly committed to working for environmental justice for people of color and other marginalized communities.
He has also worked as a volunteer educator at the Harvard Museum of Natural History, the Global Ecology Education Initiative, and the New England Aquarium. In his spare time, Lucas enjoys hiking, reading history, and writing fiction.