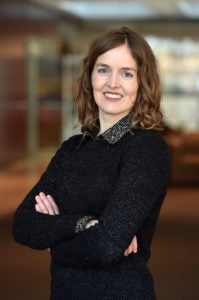 Mari comes to Georgetown Law after a decade of work on immigrant rights and international justice. Most recently, she worked with Legacies of War to advocate for the U.S. to clean up heavy contamination of unexploded bombs it dropped during the Vietnam War.
Before that, Mari worked for six years with the Southeast Asia Resource Action Center (SEARAC), the only national civil rights organization devoted to empowering Cambodian, Hmong, Lao, and Vietnamese American refugee communities. Mari first led SEARAC's advocacy strategies on the immigration consequences of criminal records for lawful permanent residents, before transitioning to the role of Director of Communications and Development.
Previously, she led an evaluation of the International Rescue Committee's refugee resettlement programs in Silver Spring, MD, and advocated on global humanitarian concerns in New York with Global Policy Forum and Doctors without Borders.
Raised on a farm in rural Minnesota, Mari attended the University of Minnesota in the Twin Cities, where she actively volunteered with American Indian and refugee-serving community-based organizations.
For her honors thesis, she conducted ethnographic fieldwork on ethnic minority politics in southwestern China, winning the prize for best thesis in the College of Liberal Arts that year. She earned her Master of Arts in Cultural Anthropology from the University of Washington, conducting fieldwork on gender-based violence programs in Liberia, West Africa.
At Georgetown Law, Mari hopes to explore legal realities and remedies for low-income or criminalized migrants, as well as broader international laws and norms governing humanitarian response and crisis migration.