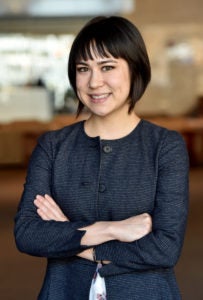 Michelle is a California native. She graduated from the University of California, Berkeley with a B.S. in Society and Environment and minors in Public Policy and French.
Michelle comes to Georgetown after three years at the Center for Environmental Health (CEH) in Oakland. At CEH, she coordinated laboratory testing of e-cigarette products for the publication of the first ever large study of cancer-causing chemicals in nearly 100 different e-cigarettes. Alongside her team, she helped develop some of the strictest injunctions in the country regulating e-cigarette packaging, labelling, and marketing.
During her time at CEH, she uncovered thousands of consumer products that exceeded California's toxic chemical safety laws and collaborated with experts to remove these unnecessary public health threats. Concerned with reports of high blood lead levels among children in Oakland, as Litigation Coordinator she developed and distributed free lead paint screening kits to direct-service organizations working with low-income and immigrant families in the Bay Area.
As an undergraduate, Michelle was a member of AmeriCorps' Justice Corps program where she assisted low income people who could not afford legal representation by providing information and referrals at clinics in Contra Costa County. Here, she primarily served people from the heavily polluted city of Richmond, many of whom were dealing with health issues that complicated the legal process.
During her time at Georgetown, Michelle hopes to gain a deeper understanding of the way in which exposure to toxics and environmental pollution affects individual's interactions with the criminal justice system by studying criminal and environmental law with a focus on public health. She plans to use her law degree to become a more effective advocate for environmental justice communities.
In her free time, Michelle collects vinyl records and is a disc-jockey who spins house and techno music. Within the male-dominated electronic music scene, she advocates for women's representation and equal treatment in the industry.