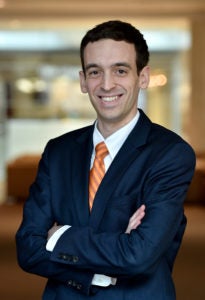 Nicholas is a New Jersey native who comes to Georgetown Law with a background in immigration and international education policy. After graduating from Boston College with degrees in international studies and Spanish, he joined the government relations department of the NETWORK Lobby for Catholic Social Justice. While there, Nicholas represented NETWORK and its constituents in meetings with members of Congress on immigration and refugee policy, with a focus on legislation surrounding family detention and unaccompanied children at the U.S.-Mexico border.
Nicholas then obtained a master's degree in International Education Policy from the Harvard Graduate School of Education, with a specific focus on the challenges surrounding education access and quality in the Northern Triangle countries of Central America.
After graduate school, he joined the Inter-American Development Bank (IADB) as a statistical analyst in the Education Division. At the IADB, he helped develop an online education statistics portal and publish a series of policy briefs with the goal of promoting evidence-based policymaking in Latin America and the Caribbean.
Since early 2017, Nicholas has also volunteered with The Young Center for Immigrant Children's Rights, where he has advocated for the best interest of unaccompanied children from Central America. His experiences with The Young Center helped shape his passion for working with unaccompanied, undocumented children in detention.
While at Georgetown Law, Nicholas hopes to further pursue his interests in immigration and refugee policy as it relates to unaccompanied minors at the U.S.-Mexico border, from both a litigation and a policy perspective.