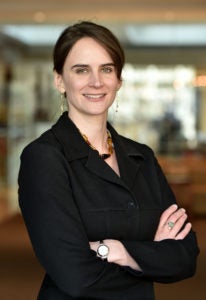 Tamber comes to the Georgetown Law evening program after spending six years working in refugee resettlement in Bangkok, Thailand and in Tucson, Arizona. While in Thailand, she ran the interpreter services program for the US Resettlement Support Center operated by the International Rescue Committee, and completed a Master of Studies (MSt) in International Human Rights Law at the University of Oxford.
While working on her master's dissertation, she accepted a position as Legal Advocate at Asylum Access Thailand (AAT), where she advised and represented refugees seeking recognition and durable solutions from the United Nations High Commissioner for Refugees (UNHCR) in Bangkok. After returning from Thailand in 2016, she took on a role at Lutheran Social Services of the Southwest (LSS-SW) managing a team of dedicated refugee resettlement professionals in Tucson, Arizona committed to welcoming and integrating refugees arriving through the US resettlement program.
Tamber is also a practicing Spanish interpreter and translator, and a trainer of community interpreters. She is thrilled to be in D.C., where she hopes to work on language access issues from both a legal and practical perspective. As a JD candidate, she looks forward to exploring legal practice areas related to migrants and refugees in America and beyond, and justice and reconciliation for communities marked by conflict and displacement.