Scientist turned patent agent working with early stage biotech startups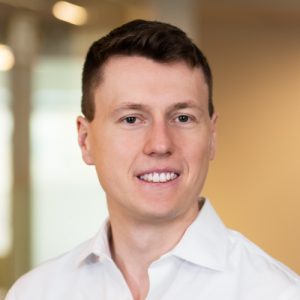 Karl's aim in life has been to cure human diseases. After completing his training as a scientist, he transitioned into a role as a patent agent, advising early stage startup companies in the biotech, medical device, and pharmaceutical spaces who are bringing the next generation of diagnostics and therapeutics to the clinic.
PhD in Clinical Neurosciences from Oxford
Karl obtained his bachelor's degree in Biology at Oxford Brookes University, before completing a PhD in Clinical Neurosciences at the University of Oxford. During Karl's Doctoral work he helped develop a next-generation sequencing based DNA diagnostic test for patients with inherited retinal degenerations which was introduced into the NHS in Oxfordshire. Karl was part of the team that discovered that mutations in the PIGQ and CBL genes are a cause of Ohtahara syndrome, a rare and fatal form of early-onset epilepsy.
Karl completed his post-doctoral fellowship at the Wilmer Eye Institute at Johns Hopkins University. He worked in the lab of Dr Mandeep Singh with the aim of developing a stem-cell based regenerative medicine treatment for inherited retinal degenerations. He was the 2015 and 2018 recipient of the Juliette RP Vision Foundation Young Scientist Award.
Patent Agent at Wilson Sonsini
Karl joined the law firm of Wilson Sonsini Goodrich & Rosati as a scientific adviser in January 2019. Karl passed the patent bar later that year to become a registered patent agent with the United States Patent and Trademark Office.
Karl is part of the firm's patents and innovation practice in the life sciences where he has helped to develop the IP portfolios of early stage tech startup companies in fields as diverse as; generating replacement organs for regenerative medicine, genetic engineering to cure human diseases, cell therapies for cancer, synthetic leathers for the fashion industry, and deep sea tunneling to generate renewable energy sources.
Rower for Great Britain
Karl represented Great Britain at the World Rowing Cup in 2013, is a two time world university rowing champion, and three time winner of the Oxford-Cambridge boat race. Learn more about his sporting history on Wikipedia. Today he enjoys rock climbing and playing beach volleyball in Baltimore, where he lives with his wife and son.