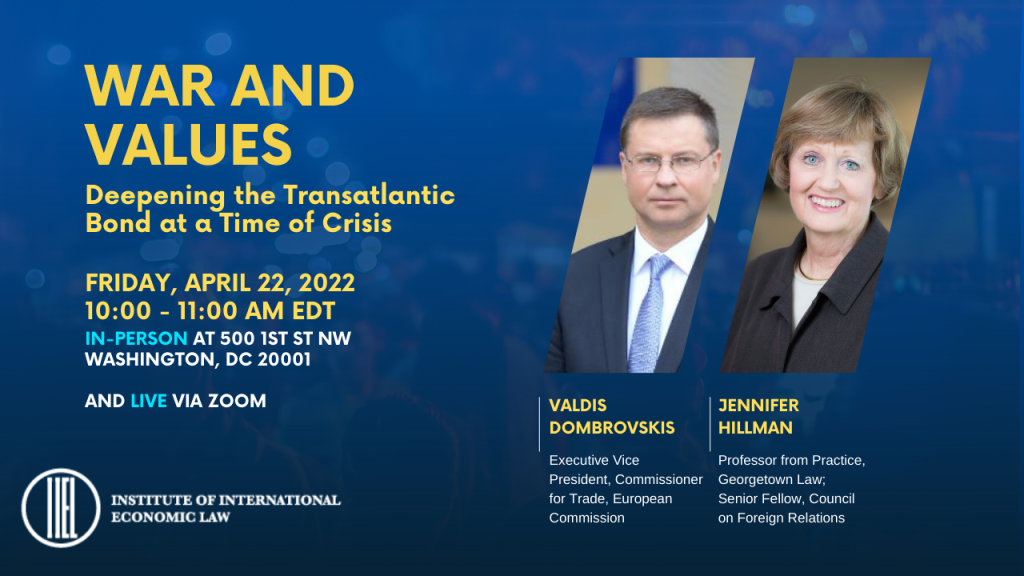 Please join Georgetown Law's Institute of International Economic Law on Friday, April 22 from 10:00 – 11:00 a.m. EDT in welcoming Valdis Dombrovskis, Executive Vice President (EVP) for an Economy that Works for People and Trade Commissioner at the European Commission, for a keynote address and conversation on "War and Values: Deepening the Transatlantic Bond at a Time of Crisis" at Georgetown Law.
In response to Russia's recent invasion of Ukraine, EVP Dombrovskis will highlight the need for accelerated transatlantic cooperation to defend and promote Western democratic values, both in support of Ukraine and at a wider global level. He will also address transatlantic collaboration in tackling global challenges including supply chain resilience, energy and food security, and the need to strengthen global institutions.
The event will be chaired by Jennifer Hillman, Professor from Practice and Co-Director of the Center on Inclusive Trade and Development at Georgetown Law.
RSVP Links:
To join us in person, please click here to register .
For the livestream, click here to register