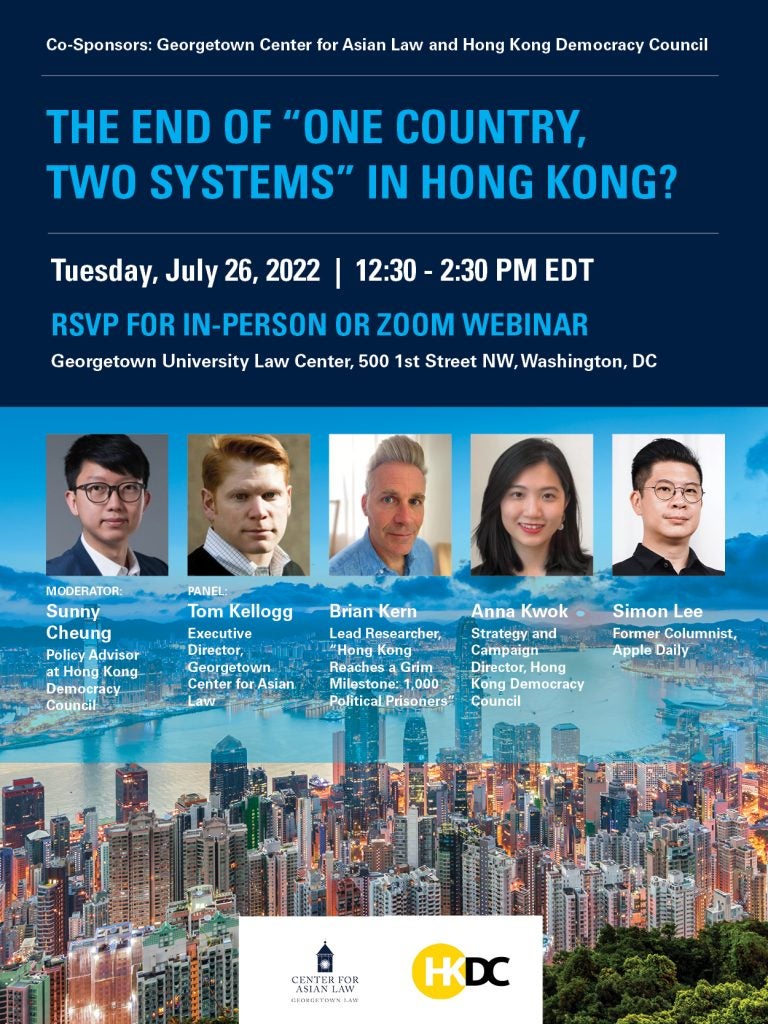 The Georgetown Center for Asian Law and Hong Kong Democracy Council cordially invite you to attend our panel discussion, The End of "One Country, Two Systems" in Hong Kong?
Since the transfer of sovereignty from the United Kingdom to China in 1997, Hong Kong has been governed under the "One Country, Two Systems" framework as a territory of China. However, the implantation of the National Security Law by Beijing in June 2020 did deep damage to Hong Kong's constitutional structure, effectively ending Hong Kong's cherished autonomy under "One Country, Two Systems." Panelists will analyze the decline of Hong Kong's legal and political institutions over the past two years, with a particular focus on human rights, rule of law, political participation, and freedom of the press.
12:30 PM – 1:30 PM Panel Discussion
1:30 PM – 2:00 PM Q&A
2:00 PM – 2:30 PM Post-Panel Networking
This is a hybrid event. Attendees may opt to attend the panel in person or by zoom link. For in person attendees, lunch will be served.
Panelists:
Thomas Kellogg, Executive Director, Georgetown Center for Asian Law
Brian Kern, Lead Researcher, Hong Kong Reaches a Grim Milestone: 1,000 Political Prisoners
Anna Kwok, Strategy and Campaign Director, Hong Kong Democracy Council
Simon Lee, Former Editorial Writer, Apple Daily
Sunny Cheung, Policy Advisor, Hong Kong Democracy Council (moderator)