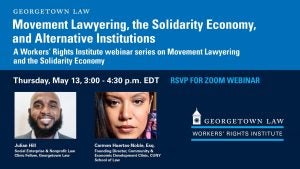 Georgetown Law's Workers' Rights Institute invites you to
the next installment of their Movement Lawyering series:
Movement Lawyering, the Solidarity Economy, and Alternative Institutions
Thursday, May 27th
3:00 – 4:30 p.m. EDT
Featuring:
Carmen Huertas-Noble, Esq.
Founding Director, Community & Economic Development Clinic, CUNY School of Law
Julian Hill
Social Enterprise & Nonprofit Law Clinic Fellow, Georgetown Law
Carmen Huertas-Nobles will be in conversation with Julian Hill on her experience as a "movement lawyer" supporting grassroots organizers interested in transformative change. For some, worker cooperatives are a way to do business within a capitalist system in ways that value workers and allow workers to share in profits. However, for others, the work of building worker cooperatives and other solidarity economy institutions is about taking the initial steps toward bringing into existence an alternative economic system that centers people and planet instead of profit. 
They will explore questions such as: what do movement lawyers do, and what role can they play in helping the power necessary to assist in organizing new ways for communities to relate to one another, their own labor, and a highly exploitative economic system.
Carmen Huertas-Noble is the founding director of the Community & Economic Development Clinic (CEDC) at CUNY School of Law and a 2020 Cooperative Hall of Fame inductee. She has played a leading role in providing transactional legal support to worker-owned cooperatives in New York. Prior to joining the CUNY faculty, Professor Huertas-Noble was an adjunct professor at Fordham Law School, where she supervised students in its CED Clinic. She also served as a senior staff attorney in the Community Development Project (CDP) of the Urban Justice Center (UJC). As part of CDP, she established organizing groups to create alternative institutions, such as worker-owned cooperatives, and counseled cooperatives in navigating their legal entity formation options and on creating democratic governance structures. She worked with ROC-NY in creating COLORS, a worker-owned restaurant in Manhattan.
Professor Huertas-Noble's research and scholarship focus on promoting alternative ownership models, including community land trust and worker-owned cooperatives (alternative institutions). Her scholarship emphasizes the role of lawyers in creating meaningful, client participatory decision-making processes as part of the lawyer's counseling process and in support of client-centered lawyering on behalf of alternative institutions. Professor Huertas-Noble earned her J.D. from Fordham University Law School, where she was a Stein Scholar in Public Interest Law and Ethics and served on the staff of the Environmental Law Journal. 
Julian Hill (they/he) is an abolitionist, solidarity economy lawyer, organizer, educator, and artist. A clinical teaching fellow with Georgetown Law's Social Enterprise and Nonprofit Law Clinic, Julian was formerly a supervising attorney with TakeRoot Justice in NYC, advising dozens of worker cooperatives on a host of matters, and a co-chair of Black Youth Project (BYP) 100's New York City chapter. Julian is a founder of the soon-to-be worker cooperative, Yo Hablo, which uses hip hop to teach Spanish. They earned their BA in Philosophy from Northwestern University and their JD from Harvard Law School.
Live captioning will be provided. Additional accommodation requests related to a disability should be sent to lawrsvp@georgetown.edu. A good-faith effort will be made to fulfill requests. A captioned version of this presentation will also be made available shortly following the event.