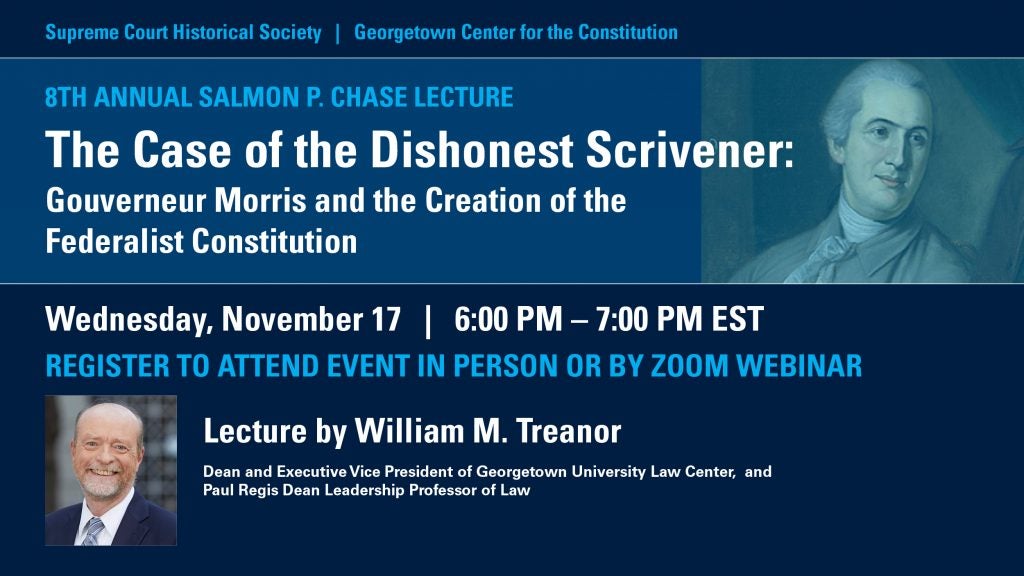 The Case of the Dishonest Scrivener: Gouverneur Morris and the Creation of the Federalist Constitution: A Lecture by William Treanor
Gouverneur Morris was an American statesman, a Founding Father of the United States, and a signatory to the Articles of Confederation and the United States Constitution. He wrote the Preamble to the United States Constitution and has been called the "Penman of the Constitution."
William M. Treanor is the Dean and Executive Vice President of Georgetown University Law Center, and he holds the Law Center's Paul Regis Dean Leadership Professorship. Dean Treanor joined Georgetown in 2010 and was reappointed to serve a third term beginning July 1, 2020.
Dean Treanor's areas of academic expertise include constitutional law, property law, criminal law, intellectual property, and legal history. At Georgetown Law, he has taught a first-year legal justice seminar, an upper-level course on the drafting of the U.S. Constitution, and most recently leadership courses. His writings have principally been in the area of constitutional history, and he has been recognized as one of the 10 most-cited legal history scholars in the United States by the University of Chicago Law School's Brian Leiter. His early work largely focused on the history of constitutional protections of private property. His more recent work, including "Judicial Review before Marbury," his doctoral dissertation, has focused on the emergence of judicial review and on constitutional interpretation in the early republic.
The Supreme Court Historical Society serves the court, the legal profession, historians and the public. The Society is a private, not-for-profit organization dedicated to the preservation and dissemination of historical information about the Supreme Court of the United States through educational programs, publications, scholarship, and the acquisition of court-related antiques and artifacts.
The Georgetown Center for the Constitution, founded in 2012, offers a variety of programs on constitutional law and theory at Georgetown Law, including lectures, faculty colloquia, public conferences, visiting scholars, post-graduate fellowships, law student fellows, and an originalism summer boot camp. All programs are designed to critically examine how best to remain faithful to the written text of the U.S. Constitution. The annual Salmon P. Chase Distinguished Lecture is published in the Georgetown Journal of Law and Public Policy.
* * * * * *
As of October 25, 2021, Georgetown University are requiring all visitors to Georgetown University-owned or operated buildings in the Washington, DC, region to be fully vaccinated against COVID-19, or to attest to having a medical or religious exemption from being vaccinated. The links and details will be forwarded to you after completing your registration to attend in person.
Tickets are not transferrable
Government-issued photo ID is required to attend
Name on attendee list must match photo ID for admission to event