Student Attorneys Build Their Legal Skills to Support Worker Cooperative Clients & Strengthen Their Commitment to Social Justice
Despite the challenging academic year in which clinic students lawyered during a pandemic, they gained valuable legal skills and insight into their future careers.
Priyanka Surapaneni ('21) developed such a strong interest in movement lawyering and sustainable community development during her Fall 2020 in the Social Enterprise and Nonprofit Law Clinic (SENLC) that she changed her course plans for her final semester of law school. She enrolled in a cooperatives seminar and began a research project on the multidimensional impact of cooperative businesses on community well-being and agency.
"Before my semester with SENLC, I assumed that my interest in transactional and business law meant a career solely in private practice," Surapaneni said. "Through the Clinic, I discovered how crucial transactional lawyering is to empowering individuals and their community organizations. SENLC not only provided us with the tools necessary to succeed in transactional law but also allowed us to explore the many practices through which lawyers can uplift vulnerable communities. SENLC allowed me to merge my commitment to public service with my affinity for transactional work, a gift I will continue to benefit from throughout my legal career."
After a semester in SENLC, Surapaneni helped organize and spoke at a virtual panel hosted by the Washington Council of Lawyers and Georgetown Law's Workers' Rights Institute with SENLC Clinical Teaching Fellow Julian Hill. The panel highlighted how law students can engage in cooperative lawyering and support cooperative movements to promote systems-level change. Surapaneni will begin working in the New York office of BakerHostetler this Fall.
During the Spring 2021 semester in SENLC, Hayley Roth ('22) represented two cooperatives : a D.C. worker cooperative that provides business support services via platforms and professional services to members, workers, and clients and a Virginia worker cooperative that provides residential cleaning services. It was the first exposure Roth had to the worker cooperative model, democratic governance principles, and state cooperative statutes. Through her representation, Roth developed a greater understanding of how worker cooperatives can be transformative not only for their worker-owners but also in communities. In her reflection on her clinic experience at the end of the semester, she explained how rewarding it was to represent her two cooperative clients, which made her think more carefully about the businesses she patronizes. She researched what worker cooperative enterprises were operating in her community and as a consumer, started supporting several cooperatives where she lives. As she enters her last year at Georgetown Law, Roth hopes to continue to advocate for the cooperative model of business, both as a lawyer and as a consumer.
In April, to mark the end of an unprecedented and challenging academic year, the Clinic hosted a socially distanced, in-person gathering for both fall and spring semester students.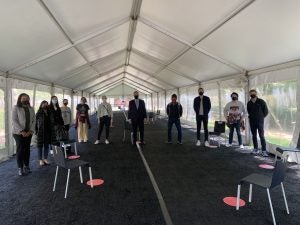 Students had the opportunity to come to campus and meet their colleagues for the first time after having only collaborated virtually over Zoom the entire semester. The highlight from the gathering was a surprise appearance from Distinguished Visitor from Practice and the first Second Gentleman of the United States, Douglas Emhoff. Emhoff spent time speaking with graduating students, imparting to them his experiences as a practicing attorney, and providing words of encouragement as they start their careers in a post-Covid-19 economy. Students were excited to be able to cap off their clinic experience with such a distinguished guest.