Alejandro Barrett Lopez was born to a British father and a Mexican mother in Buckinghamshire, England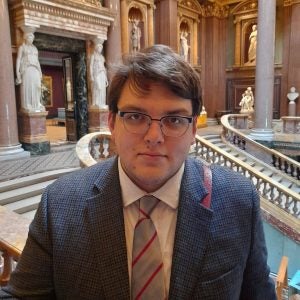 and experienced an internationally itinerant early life in the United Kingdom, Mexico, and the United States. Initially studying as a mediaevalist researching the political dynamics of the Knights Templar and Hospitaller in the Levantine Crusader states, Alejandro changed his course of study to focus on the British Empire in Southeast Asia during the latter half of the nineteenth century. It was in this area that he enrolled in the History Honours programme at Indiana University Bloomington, where he wrote a dissertation regarding the unique sovereignty of the 'Brooke Raj' of Sarawak and its diplomatic relations with the British state throughout the reign of the 'White Rajah' Sir James Brooke(r. 1842-1868). He also studied philosophy, with a particular interest in virtue ethics, aesthetics, and mediaeval philosophy. In addition to his historical and philosophical studies, Alejandro was also part of the religious studies department where he focused on Catholic and Orthodox Christianity –he wrote a dissertation on martyrdom amongst the Catholic laity during the Cristiadain Mexico(1926-1929).
It was during his undergraduate degree that he also assisted Professor David Bosco as a research assistant for his book The Poseidon Project: The Struggle to Govern the World's Oceans, published in 2022 by Oxford University Press.
Following his undergraduate degree, from which he graduated with departmental honours and high distinction, Alejandro completed a Masters in Philosophy (MPhil) in World History at Queens' College in the University of Cambridge. His dissertation, entitled Hercules and the Hydra: Britain and Spain's Suppression of Piracy in Borneo and the Sulu Sea, 1840-1885, was a comparative work examining how the British and Spanish empires reacted to the real as well as the legal and ideological threat which the extensive pirate presence in the region posed. His dissertation also considered how the extirpation of pirates from the Sulu Sea and Borneo contributed to inter-imperial tensions over unsettled territorial divisions up until the Madrid Protocol of 1885.
At Georgetown University Law Centre, Alejandro intends to take his historical research up to the present day –with a particularly keen interest in international maritime law, and how nations and corporations manoeuvre its complexities. He maintains an avid interest in the history of the long nineteenth century and High Middle Ages. He is a native speaker of English and Spanish, has a proficiency in French and Italian, and maintains a literacy in Latin.