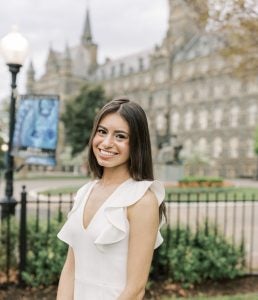 Carly grew up in New York and graduated magna cum laude from Georgetown University's Walsh School of Foreign Service in May 2023 with a B.S. in International Politics and a minor in Religion, Ethics, and World Affairs. She was inducted into Phi Beta Kappa, Pi Sigma Alpha, and Alpha Sigma Nu. She is deeply passionate about multilateralism, international law, and sustainable development.
While at Georgetown, Carly interned at the U.S. Department of State in the U.S. Mission to the United Nations and the Bureau of International Organization Affairs. The opportunity to witness public service in action instilled in her a profound ambition to study–– and one day improve–– the legal frameworks that shape the international system. In 2022, Carly was selected for the Humes Fellowship at the Institute for the Study of Diplomacy, where she wrote a 30-page policy proposal on China's increasing authoritarianism in international organizations and identified opportunities for strengthened U.S. leadership. At the same time, she served as a Research Assistant at the Global Governance Forum to advocate for United Nations reform and the establishment of an International Anti-Corruption Court.
Carly spent her final semester as part of the Spring 2023 White House Internship Program in the Office of Domestic Climate Policy.
In 2021, Carly co-founded The Olas Foundation, a student-started nonprofit dedicated to advancing social impact in Zone 3 of Guatemala City while promoting educational equity for students learning Spanish, which she is proficient in. Carly built on her experience leading The Olas Foundation as an Undergraduate Scholar at the Institute for the Study of International Migration, where she researched climate-driven migration for two years. Carly enjoys hiking, creative writing, and learning how to box.