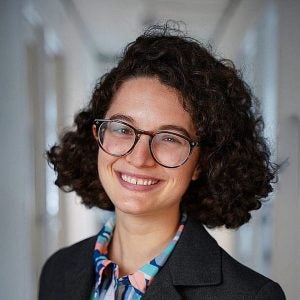 Eva received her undergraduate degree with Highest Honors in History and International Relations, concentrating in the Middle East, from Tufts University. She has lived in Jordan,
Egypt, and Sudan, and studied Arabic literature with the Center for Arabic Study Abroad
(2019-2020). After graduation, Eva researched civil-military relations and ISIS with the Institute for the Study of War, and served as an associate with the Harvard Davis Center Negotiation Task Force.
Prior to enrolling at Georgetown Law, Eva oversaw the Sudan portfolio at C4ADS, a DC-based NGO working to disrupt and dismantle transnational illicit networks. Eva's team worked to identify and expose the networks financing Sudan's coup government, and support democratic transition. Eva supported the portfolio's investigations into Sudanese state-owned enterprises, illicit finance, and arms trafficking, and developed new lines of analysis into private military contractors across Africa and the Middle East.
Eva speaks (a lot of) Arabic, (some) French and Hebrew, and (elementary) Russian and Spanish. In her free time, she enjoys translating poetry, listening to live music, and swing dancing.