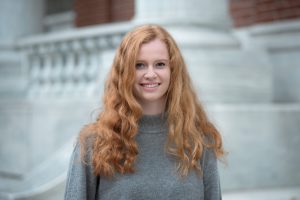 Fina graduated magna cum laude from Tufts University in 2020 with a double major in International Relations and Political Science. She also completed an MS in Data Analytics at Tufts in 2021. After graduating, Fina worked at the Center for Strategic and International Studies, where she got to analyze a variety of interesting datasets as a Data Research Intern and automated a tool to collect information on daily military activity in the Taiwan Strait.
In 2021, Fina moved to Taiwan to teach English through the Fulbright program. After a year on Taiwan's Kinmen Island, she spent a second year teaching English in Pinglin, a small tea farming town just outside of Taipei, Taiwan. Fina has previously studied abroad in Kunming, China and Annecy, France. She is proficient in Mandarin Chinese and conversational in French and Spanish.
Fina is excited to pursue her interest in international law as a Global Law Scholar at Georgetown. Her interest in law stems from her time as an undergraduate intern at the Massachusetts Commission Against Discrimination, where she assisted with intake interviews and translated questions into Spanish when necessary. She has also interned at the Washington-based National Homelessness Law Center.
In her free time, Fina enjoys reading, playing basketball, hiking near her hometown of Seattle, sharing Spotify playlists, and hunting for her new favorite coffee shop.