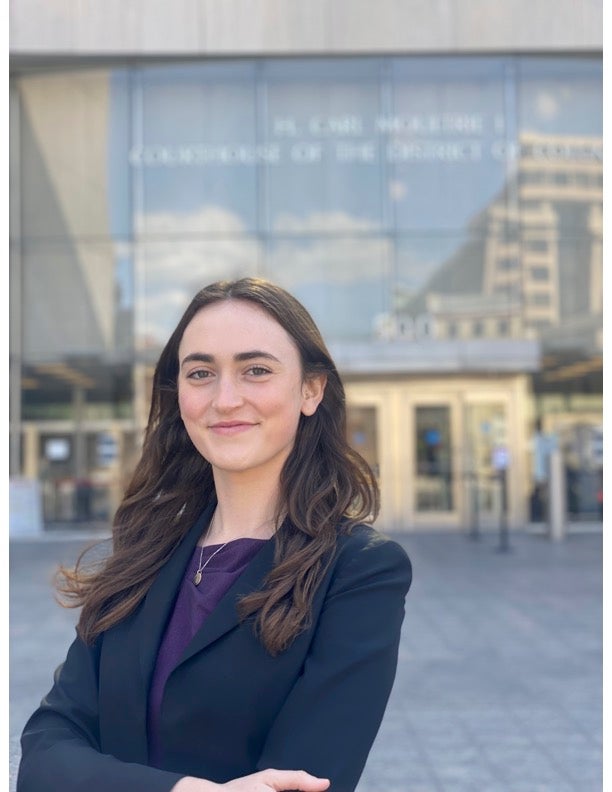 Genevieve McCarthy is a J.D./M.A. in Latin American Studies joint degree candidate with the Georgetown University Walsh School of Foreign Service. She is passionate about economic development, infrastructure, and the environment in Latin America.
Genevieve is a Legal Intern at the World Bank during fall 2023 and will be a Summer Law Clerk in the Project Finance group at Clifford Chance's D.C. office during summer 2024. At Georgetown Law, she participated in the winter break pro bono trip at a women's detention center in Dilley, TX and is a spring 2024 student in the Center for Applied Legal Studies asylum clinic.
Genevieve interned with the Department of Justice Office of International Affairs on the Incoming Mutual Legal Assistance team, where she drafted subpoenas for the District Court of the District of Columbia to obtain evidence for foreign criminal proceedings. She was a Legal Intern with the Centro Prodh in Mexico City, advocating for victims of the 2014 Ayotzinapa disappearance. Previously, she was a Research Assistant for Georgetown Department of Government Professor Diana Kapiszewski on her book about Latin American election courts, and a Research Intern with the Guernica Centre for International Justice where she wrote country profiles on corruption in Mexico and Mozambique for the United Nations General Assembly.
Genevieve graduated magna cum laude from Colgate University with bachelor's degrees, with honors, in Political Science and Spanish. She is fluent in Spanish and proficient in Portuguese. She is from New York City but has lived and worked in Mexico City, Madrid, London, Los Angeles, and Washington, D.C.