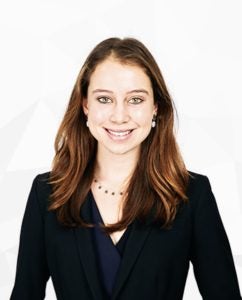 Gillian Samios grew up in Princeton, NJ, and graduated Summa Cum Laude and Phi Beta Kappa from Duke University in 2020, receiving a BA in Public Policy Studies with minors in Political Science and French. She developed a strong interest in international law and politics while studying abroad at Sciences Po in Strasbourg, France her junior year at Duke. After graduating, Gillian was accepted to a master's program in politics and international studies at the University of Cambridge. Her master's thesis analyzed the evolution of secularism in France through the lens of the French school system.
After graduating from her master's program, Gillian moved to London and worked for two years as a paralegal at Laura Devine Immigration, an immigration law firm specializing in US and UK immigration law. Gillian's passion for immigration law stems from her background as a descendant of Greek and English immigrants. She was first introduced to immigration law through a summer internship with a small firm based in North Carolina after her senior year at Duke, where she helped clients with naturalization and DACA applications. Gillian looks forward to expanding her knowledge of this field at Georgetown Law and is grateful to be the recipient of the John S. Manos, Esq., Memorial Graduate Scholarship from the Hellenic University Club of Philadelphia in support of her legal education.
As an undergraduate, Gillian explored her interest in law through internships at the US Attorney's Office for the Southern District of New York and in S&P Global's legal department. On campus, she was a student researcher on a multidisciplinary research team focused on analyzing gerrymandering in the North Carolina state legislature, with the team's findings ultimately supporting oral arguments in a Supreme Court case. In her free time, Gillian enjoys playing piano, singing (she was in an acapella group at Duke), and playing tennis. She speaks English and French.