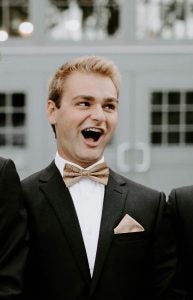 Luke Dykowski graduated summa cum laude from the University of Minnesota in 2022, with a B.A. in History and Political Science, and minors in French and Applied Economics. His research interests include historical and modern state building, legal inclusion and exclusion of religious actors from state structures, and religious actors' influence on state stability.
Luke's initial study of Early Modern state centralization, "Illustrating an Emperor: Understanding the Life and Reign of Maximilian I through Theuerdank" (The Central Europe Yearbook, Fall 2020) was awarded the 2021 Best Non-Paper Publication Prize by the University of Minnesota Department of History. His subsequent research in France and Austria as a Hedley Donovan Scholar through the University of Minnesota Department of History culminated in his undergraduate thesis, "Artistic Patronage and Early Modern State Building in Ducal Burgundy." Luke's latest analysis of state evolution and religious influence, "Heretical Pasts, Heterodox Futures? The Case for Schism in the Modern Russian Orthodox Church," was published in the Southern California International Review (Fall 2022).
In his free time, Luke enjoys backpacking, roadtripping, and running, and is a passionate cross-country ski racer. He is the founder and current Commissioner of the Midwest Collegiate Ski Association, the largest collegiate Nordic ski league in the United States.