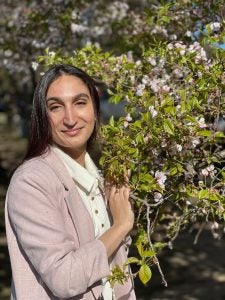 Maryam Alghafir was born to a Syrian father and a Venezuelan mother in Houston, Texas, and experienced a culturally immersive childhood as a result of living in Syria, Venezuela, and the United States. She received a B.A. in Management from the University of Houston where she graduated Summa Cum Laude.
During her undergraduate career, she served as an intern in the White House Office of Intergovernmental Affairs, the United States House of Representatives for Congresswoman Ocasio-Cortez, and as a Civic Engagement Intern for the Council on American Islamic Relations. She also worked as a Youth Development and Government Relations Coordinator at An-Nisa Hope Center, a non-profit organization committed to education, advocacy, and legislation within the community. Maryam took on many leadership roles on campus including serving as Vice President of the Student Government Association, President of the Mock Trial Association, Voter Registration Director for NextGen America, and Debate team member.
Maryam also possesses extensive experience in fundraising initiatives, having collaborated with the United Nations and Maram Foundation to raise funds for Syrian and Venezuelan refugees. Her efforts were acknowledged and featured in the United Nations November 2016 newsletter.
At Georgetown, Maryam is an Opportunity Scholarship recipient in addition to being an HSF Scholar. She enjoys baking, cooking, spending time with her two cats, and nature walks. She is proficient in Arabic and basic in Spanish.