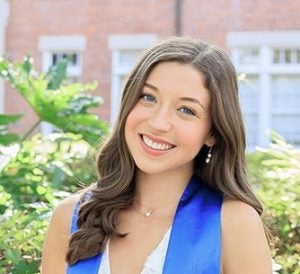 Noemí Galeano is from Tallahassee, Florida, and received her B.A. in Political Science, minoring in Portuguese studies from the University of Florida, where she graduated magna cum laude. Galeano is interested in national security, climate change, and human rights law. These interests are rooted in her childhood and adolescent years in Mexico and the Peruvian Amazon which frame her perspectives about transnational issues.
During her undergraduate studies, Galeano engaged in academic and policy research on Latin America. She assisted with data analysis for faculty studies on violence against women in politics and democratization. She completed her senior honors thesis on the militarization of environmental policy in the region.
Noemí has a passion for government service and galvanizing attention to international issues. She has interned with the U.S. Department of State at the Consulate in Rio de Janeiro, served as an editor for congressionally-mandated 2021 Human Rights Reports at the Office of Democracy, Human Rights and Labor, and interned with the Senate Foreign Relations Committee (Democratic Staff) and the Office of House Speaker Nancy Pelosi. Galeano also assisted the U.S. Fish and Wildlife Attaché at the U.S. Embassy Brasilia with the preparation of reports supporting collaborative interagency efforts to combat wildlife trafficking with the Department of Justice. As an intern with the Senate Foreign Relations Committee, Galeano prepared initial drafts of Senate Resolution 92 of the 118th Congress on illegal, unreported, and unregulated fishing.
At UF, Noemí was selected for membership in the University's oldest and most distinguished leadership honorary, Florida Blue Key, and was elected to various positions in Student Government. Noemi is bilingual in Spanish and English and has advanced proficiently in Portuguese. In her free time, Noemi enjoys pilates and barre classes, nature trails, and cooking.