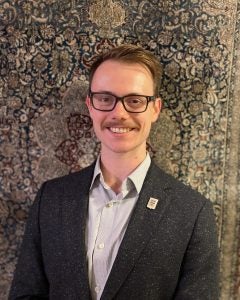 Born and raised in Oregon, Patrick Powers graduated from Oberlin College in 2021 with majors in Comparative Literature and Russian. He was awarded Highest Honors in Russian for his undergraduate thesis, "Belief in the Unbelievable: Yakov Druskin and Chinari Metaphysics," which focused on the links between religious existentialism and absurdist literature in the early Soviet avant-garde.
In addition to this research, which was adapted into presentations and shorter papers for conferences at Oberlin and the University of Pittsburgh, Patrick worked extensively as a research assistant with Professor Stephen Crowley on his book project, Putin's Labor Dilemma: Russian Politics Between Stability and Stagnation, published in 2021 by Cornell University Press. Patrick further developed his Russian language skills in 2020 while studying abroad at the Bard-Smolny Program in St. Petersburg, Russia. He also served on Oberlin's Student Senate for four semesters, taking on a wide range of projects and leadership roles including one semester as Vice Chair.
During his undergraduate career Patrick also interned with the investor relations team of the investment firm D. E. Shaw, played drums in Oberlin's jazz small ensembles, and published a number of essays and book reviews in online journals.
After graduating, Patrick moved to Uzbekistan to complete a Fulbright grant teaching English at the Kokand State Pedagogical Institute. In addition to his teaching responsibilities, he gave guest lectures at schools and language centers throughout the country and organized a number of larger projects. Most notable among these was a media literacy conference which brought Fulbright grantees from four different countries together to Kokand to deliver workshops and engage with students from throughout the Fergana Valley.
Patrick also developed a deep passion for Central Asia, traveling extensively through Uzbekistan, Kyrgyzstan, Tajikistan, and Kazakhstan.
Patrick speaks Russian and conversational Uzbek, and he is working to revitalize his Spanish.
In his free time, Patrick enjoys chess, cycling, playing and listening to music, and spending time with friends.