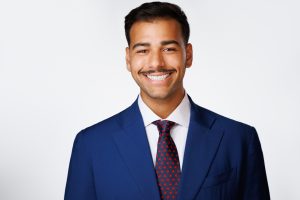 Salah-Dean graduated with first-class honors and magna cum laude from the prestigious Joint Degree Program at the College of William and Mary in Virginia and the University of St. Andrews in Scotland in 2022. He received a B.A. International Honors in International Relations with a focus on Democratization and Issues of Identity in the Middle East and North Africa. He was born and raised in Chantilly, Virginia; however, much of Salah-Dean's childhood was spent visiting his family in Tunisia, Lebanon, and France.
In undergrad, Salah-Dean was active in both universities' academic output. While at the University of St. Andrews, he was on the board of three peer-reviewed academic journals: the Irvine Atlas Undergraduate Geography Journal, the St. Andrews African Summit Review, and the St. Andrews Middle Eastern North African Review. Moreover, he was selected to present his research, "Explaining the Diverging Experiences of Tunisia and Egypt after the Arab Spring," at the Political Studies Association's Undergraduate Conference at the University of Belfast in 2021. Salah-Dean's senior capstone, " The Destruction and Revival of the Tunisian Amazigh Identity," attempted to fill the gaps in the literature on the Tunisian Imazeghen (Berbers).
During the summer of 2022, Salah-Dean was selected to become a summer research fellow at the College of William and Mary's Global Research Institute. As a fellow, he worked in the Tunisian capital, Tunis, interviewing politicians, civil society leaders, and activists during the 2022 constitutional coup. Moreover, he co-authored several articles featured in publications such as the Washington Post and Brookings. As a Tunisian American, he also became a consistent contributor to media outlets in the U.S. and Canada, such as Voice of America and the Toronto Star, in order to advocate for constitutional legitimacy and against democratic backsliding in Tunisia.
After graduating and completing his work in Tunisia, Salah-Dean spent a year at the Qasid Arabic Institute in Amman, Jordan. While at Qasid, Salah-Dean focused on mastering Modern Standard Arabic (Fusha) and the Levantine Dialect. During the year, he spent much of his time studying the language, traveling around the region, and volunteering with local youth groups. Salah-Dean can speak multiple dialects of Arabic at an advanced level and French at an intermediate level. Outside the classroom, Salah-Dean played four years of collegiate rugby, is an avid golfer, and loves traveling.