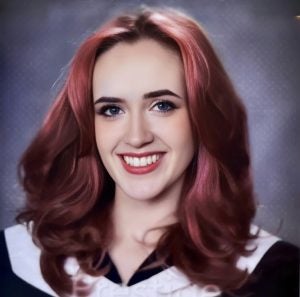 Samantha Ortiz-Clark graduated from Swarthmore College in 2022 with a double major in Political Science with a focus on international political affairs and Spanish. Her course of study also adopted a multidisciplinary approach to questions of humanitarianism, international development, and human rights. Samantha's senior comprehensive exercise, "Control y castigo: Representaciones del sufrimiento femenino en el cine mexicano y sus funciones sociales," examined the role of cinematic representations of female suffering in the formation of Mexican national identity. Additionally, Samantha received special permission to write and recognition upon completion from the Swarthmore Department of Political Science for her senior thesis, "Bridging the Gap: An Analysis of the Normative Framework for Child Refugee Protection and Barriers to its Implementation," which analyzed the precarious legal and political status of refugee children as a distinctive social group. Upon graduation, Samantha was selected for a Lucretia Mott Fellowship, a distinctive award funded by the Somerville Literary Society for women pursuing advanced post-graduate studies.
During her time as an undergraduate student, Samantha served as a research intern at the University of Puerto Rico's Centro Comprensivo de Cancer, and her work on the connection between public vaccination campaigns and the prevalence of HPV-related cancers in Puerto Rican adults was selected as a finalist for presentation at the IPVC 2020 Conference in Barcelona. She also served as a consulting intern for Tallawah Consulting, a Philadelphia-based consulting firm which focuses on developing innovation at the intersection of inclusion and impact. Working as a research assistant for the Swarthmore Department of Peace and Conflict Studies, Samantha specialized in projects related to attacks on education, educational barriers faced by refugees and internally displaced persons, and the relationship between access to education and migration decisions in situations of conflict and humanitarian crisis.
In addition to her academic pursuits, Samantha has worked as a Student Academic Mentor, Language and Media Center librarian, Mathematics and Statistics grader, line cook, full-time nanny, grocery store cashier, and professional children's party princess. In her free time, she enjoys cooking, sewing her own clothes and costumes, dancing in all styles, singing, and spending time with her husband and dog. Samantha looks forward to forthcoming opportunities to learn, grow, serve, challenge, and be challenged at Georgetown.