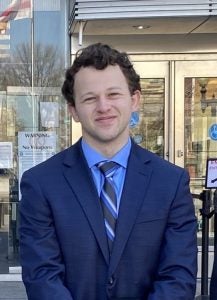 Sean Cailteux, originally from St. Louis, Missouri, graduated from the University of South Carolina in 2021 with a B.A. in Economics and Russian where he played rugby for the university and was a member of the Capstone Scholars program. Sean is a dual degree student working towards both his J.D. and M.A. in Eurasian, Russian, and East European Studies. He has spent significant time in Russia having traveled to the country in 2017, 2018, 2019, and 2022. He speaks Russian and is proficient in Ukrainian.
In fall 2021, Sean conducted a research project under the supervision of faculty at the University of South Carolina titled "Striving for Unity Amidst Division: The Merits and Drawbacks of Current Language Policy in a Bilingual Ukraine" which examined issues surrounding language laws and general attitudes governing the relationship between Ukrainian-speaking and Russian-speaking Ukrainians and the central government. Sean conducted interviews with college-aged Ukrainians and personally translated and analyzed multiple passages of the Ukrainian constitution.
At Georgetown, Sean is most interested in international law, litigation, diplomacy, and legal reform in Belarus, Ukraine, and Russia.